Last night was a WTFest of epic proportions.
The Forever 21 at the Glendale, CA, Americana threw a shindig to celebrate the arrival of Petro Zillia's new line, exclusive to the retailer, and when I say that the clothes were tasteful, well made and appropriate for women of all ages I am FUCKING LYING.
Multicolored horizontal stripes in a tube top that would barely fit one of the average woman's boob and leave absolutely nothing to the imagination of whatever kind of man, woman or child who hangs around people that actually wear pink striped tube tops.
Everything in the collection struck me as being inspired by the underage sex tourism trade in Brazil. Most of the clothes are constructed of stretchy, zipperless fabrics -- easy to take off, hike up or move to the side and even easier throw back on. Seriously, if I saw a young girl in that tube top and matching shorts combo I would automatically assume there was something very, very wrong at home.
And the super brightly colored horizontal stripes? The fact that they only look good on very skinny women or little girls under the age of 12 makes me even more suspicious about their target audience.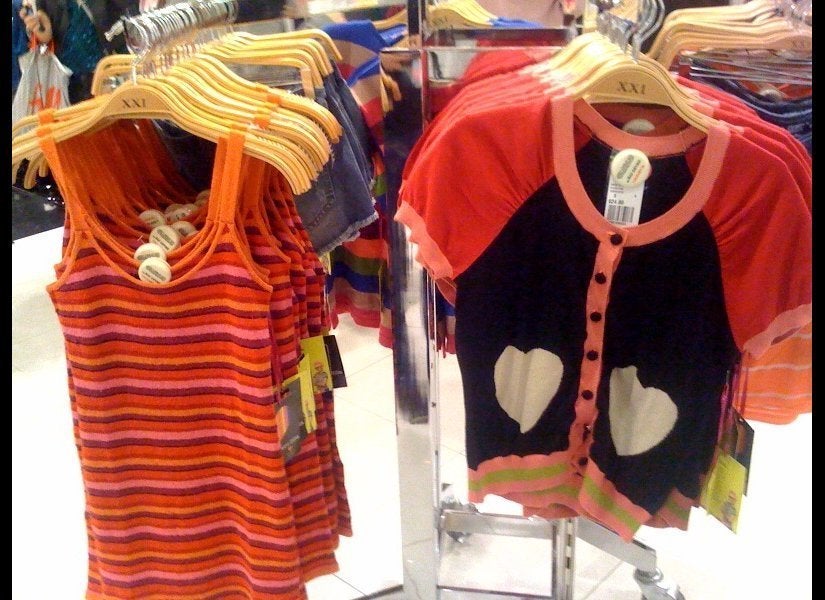 Petro Zillia Forever 21 Line
There was a large table of sweets and a handful of young women (NOT wearing anything from the collection) passing out pink gummie bears and lollipops.
A couple of cotton candy girls swirled up cones for shoppers while a DJ blasted top 40 hits toward the front of the store.
They even had a raffle and gave away several pieces from the collection to (lucky?) winners.
All to distract people from realizing they were about to buy THIS: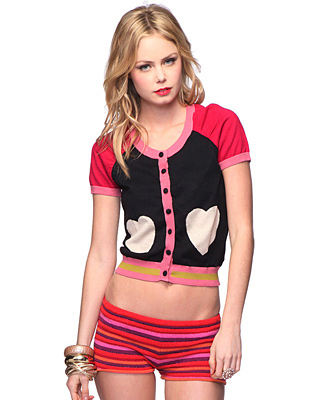 Prices in the collection range from $11.80 to $29.80 and everything can be found online here. Or you could just wait a few weeks and get your stretchy, striped hotpants in the bargain bin.