I met one of my first piano teachers, Antonio Bacchelli, at a piano competition when I was seven-years-old. He was the first person who thought I had some talent. He came to this conclusion because, when confronted with a little left hand lapse in the middle of a Bach Fugue, I proceeded to completely make it up until the end of the piece in a somewhat coherent way. Bacchelli made a name for himself as the first pianist to record the complete solo works of Stravinsky. As an eight-year-old crazed fan, I bought all of his recordings. There was very little in the Stravinsky LP set that I could grasp, but for some reason the Three Movements from Petrouchka left a mark.
I asked my father to bring me to the local music store to buy the score of the Three Movements. I vividly remember the wide-eyed response of the shop attendant. With my small baby hands, I would not have been able to play even the first chord! In any case, he was out of the version for solo piano, so he gave me the full orchestral score of the entire ballet. "Just look at the flute and first violin parts and it will be the same as the solo piano version," he said. He also handed me the score of Stravinsky's own arrangement for piano four hands. On our way back home, my father and I stopped at a record store and bought an LP of the London Symphony Orchestra conducted by Claudio Abbado with Leslie Howard playing the demanding piano part. From that moment on, I became obsessed with Petrouchka. In the full orchestral version I discovered the amazing story that does not exist in the Three Movements. I listened to the recording over and over that year, trying to follow a different instrument each time, and then slowly trying to understand the larger sections. I found the story of the three puppets very appealing, but I believe it was the colorful musical depiction of Russian life that won me over. I cherished every scene, every masterful orchestration detail, the organized chaos of the overlapping evening scenes and the overall massive structure that kept this series of fragments together. More importantly, every minute I spent exploring the score revealed more hidden details that took me to deeper levels of involvement in this masterpiece.
After the visit to the music store I had to shelve the four hand version, knowing that I would not be able to meet the technical demands, not to mention asking one of my eight-year-old buddies to join me. When I moved to America at age 16, I brought the score with me. I took advantage of the music library at school to listen to different versions of it and, for the first time, watched the ballet, which reignited my love for this piece.
However, I still couldn't find anyone to play this long and demanding work with me. I had to wait until 2004, when the Ottawa Chamber Music Festival asked me to join my bride-to-be and pianist extraordinaire Lucille Chung in a two piano/piano four hands concert. The four hand version of Petrouchka is not something that can be put together in a few rehearsals, especially considering how good I wanted it to be. But an opportunity to really work on Petrouchka from the ground up with a fantastic pianist was too good to pass up, so I dusted off the old score and we went to work. Those first rehearsals are forever etched in my memory. The imagery and fantasies from my childhood came rushing back, and working with Lucille on this piece brought us together closer than ever.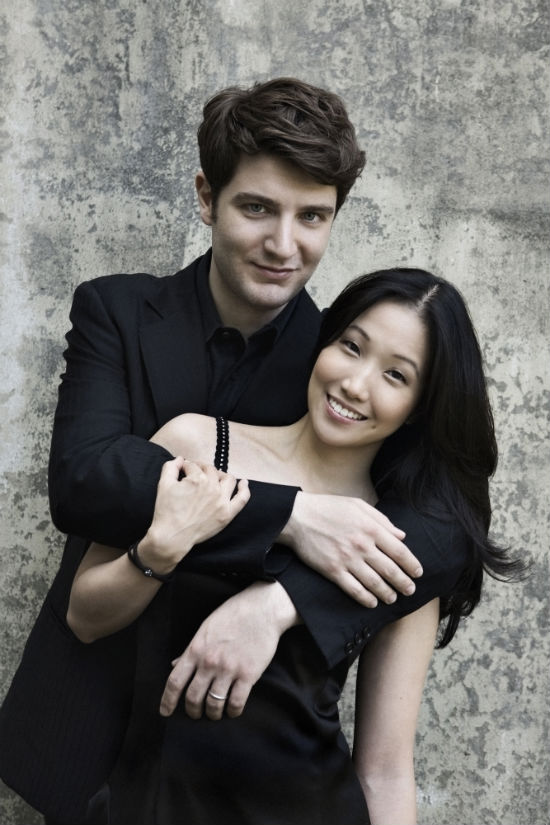 Alessio and Lucille, photo credit: Lisa-Marie Mazzucco
Today, almost nine years after those first rehearsals, we have played Petrouchka many times and we still rehearse it with the same excitement and trepidation we had on that first day. We also keep finding new amazing details, the unmistakable trait of a great score. Petrouchka, Ballerina and Blackamoor, the three main characters of the ballet, have been our companions on winter tours across Russia and the Canadian Prairies. They have walked with us on stage as actual puppets in Guatemala, and have come to life in our imaginations in concert halls around the world. From eastern Siberia to the Yukon, audiences are touched by this beautiful and colorful story the same way an eight-year-old in Southern Italy was held spellbound listening to an LP.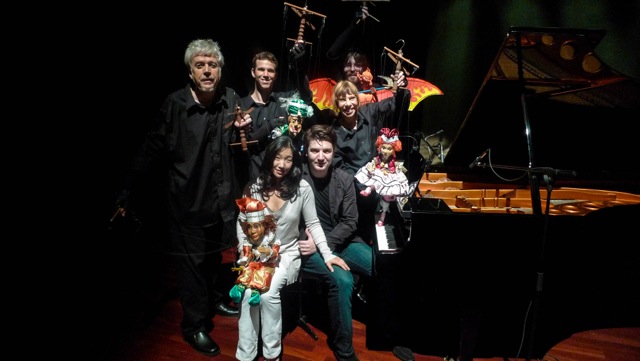 Petrouchka in Guatemala, Alessio Bax and Lucile Chung with Bits 'N Pieces Puppet Theatre
I am always asked why I never played the Three Movements, an abridged version for piano solo. Although it is a fantastic work on its own, I feel that it is mostly a tool to showcase the pianist, and I could not live with the chopped up story. There is no morning scene to start things off, Petrouchka does not (spoiler alert) die, nor does he reappear at the end as a frightening ghost, and the list goes on. To me it is not as satisfying as the full ballet or the full work for four hands.
On January 21st, Lucille and I will perform the complete four hand version of Petrouchka for the first time in New York -- our home -- and next month we will record it for the British label Signum, home of my last four recordings. It feels like the Petrouchka circle is closing... What's next? What new adventure? The Rite of Spring? Too soon to tell.
Alessio and Lucille on tour with Petrouchka in Saratov, Russia
Popular in the Community