At many startups, allowing pets at work is a free and easy way to show employees they are valued. Now more than ever, companies are allowing pets at work to attract younger employees. What started as a convenience measure for staff has shown to be much more. The Center for Disease Control reveals that pets encourage physical activity and socialization for the owner. Beyond that, it has shown to lower blood pressure, cholesterol levels, and feelings of loneliness. Can these benefits rub off on office mates, too?
WeWork is proud of its dog friendliness, and recently published an article praising the benefits of pets at their workspaces. The company, specializing in co-working space, is known for being convenient for startups, and pet friendliness adds to its appeal. Julia, who works in real estate from a WeWork office in New York City, chose her location based on pet friendliness. "I don't have a dog of my own, but being around them makes me happy." However convenient WeWork's pet policy is for owners, Julia notices that having pets around the office makes the day better for her.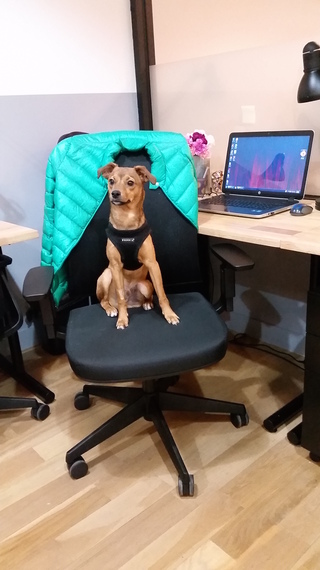 Tucker, one of the dogs at at WeWork location in Manhattan

Movement during breaks throughout the workday has been proven to reduce back pain from sitting. It's no surprise that Atlas Wearables, the developer of a digital trainer and heart rate band, praises the wellness benefits of pets at work. Based in Austin, Texas, CEO Peter Li notes one benefit of having a dog around is its need to be walked. Having Bluto the dog around created an opportunity to have walking meetings. "Standup meetings emphasize knowledge sharing. It helps keep the whole team on the same page running towards the same goal."
Bond Street, a small business loan startup, is a growing company that is enthusiastic about their office dogs. Zac Felsenstein, community manager at Bond Street, encourages everyone to bring their pet to work. Libby is Bond Street co-founder David Haber's havanese. She adds another personality to the office. " I see Libby and instantly my day is better," remarked Felsenstein. She comes in 2-3 times a week and has created a culture of her own: the team sets aside time to walk her and feed her. It creates camaraderie, as everyone a the office shares responsibility caring for the office animals. Although everyone is encouraged to bring their dog into the office, typically, no more that two dogs are there at a time.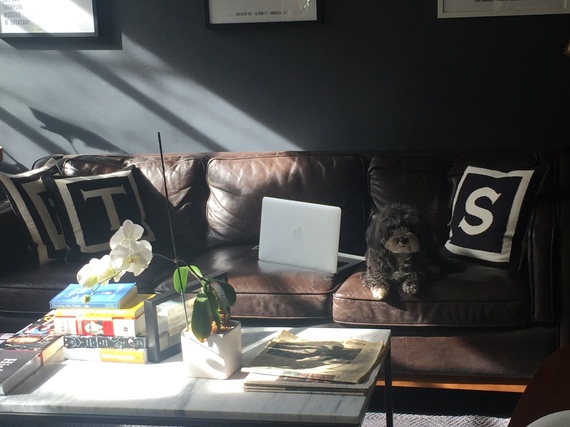 Libby at Bond Street's office
SeamlessDocs is a starup that specializes in working with governments to help digitize and automate operations, and is growing quickly. Robert Zeigler, Operations Coordinator at SeamlessDocs, conveyed how people at the office love having Wilson and Tucker around. It's more than a convenience for the owners; the dogs bring joy to the office. Whether walking around visiting people as they work, or licking people's noses during office yoga, these canines bring plenty of smiles.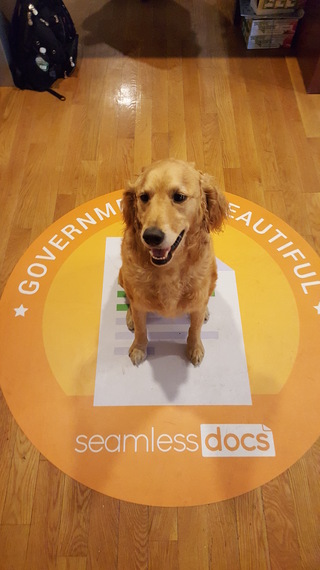 The popularity of Japanese cat cafés implies that people crave animal companionship, even if pet ownership isn't an option. Little Lions is a cat cafe in New York City where guests can enjoy the company of cats. All their rescue cats are available for adoption through Best Friends Animal Society. Erin McShane, the founder of the café, knows that having animals around lower stress and reduces blood pressure. When asked about the topic of pets at work, she responded: "It makes sense that a pet friendly work environment leads to higher employee satisfaction and higher retention rate." She often spends time with the cats when she is stressed with work and immediately feels a sense of calm.
For years, people have been preaching the power of animal companionship. Animals at work increase happiness and promote wellness. At one time, bringing your dog to work seemed like one of the many conveniences of working for a startup. But as people are discovering the benefits beyond convenience, the wellness benefits of animal companionship at work are in the spotlight.