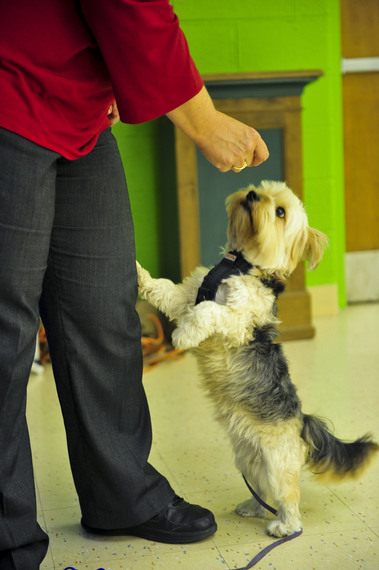 According to The Humane Society of the United States, there are 82.2 million dogs and 95.6 million cats living in American households.
However, what these numbers do not reflect is how many of these pets live with seniors on fixed incomes or families living in poverty.
When these pets become ill, their owners do the best they can to provide the proper care for them. However, they often have no access to veterinary care or financial resources to afford it even if such care was available to them. As our pets are an integral part of our lives, this is a heart-wrenching decision that can tear a family apart.
The Pets for Life program was established by The HSUS to change the world for people and their animals in underserved communities, with staff on the ground in Atlanta, Chicago, Los Angeles and Philadelphia. Through the program, The HSUS also offers mentorships to local organizations in other communities like Blackfeet Nation in Montana, Detroit, Charleston, S.C., Dallas, Camden, N.J., and Reno, Nev., among others. PetSmart Charities provides the majority of funding for these mentorships through grants.
The HSUS program goes door-to-door reaching out to pet owners in underserved neighborhoods and arranges for their animals to be spayed or neutered or receive other basic veterinary care services. If a pet is sick, the team provides transportation to take the animal to a veterinarian. Often times, the owners don't have cars and can't take their pet on public transportation. Additionally, the program pays for veterinary care as well as vaccinations, training classes, pet supplies and provides one-on-one pet advice.
Staff members become a part of these communities and work hard to build genuine, trusting relationships with the people who live in them.
In the Chicago community of North Lawndale, where nearly half the residents are living below the poverty line, the HSUS team noticed two dogs in the yard of a boarded up house. Fearful of getting into trouble, the dogs' owner refused to come out of the house to talk and even when given a phone number to call, there was still no response. But gradually, the team earned the owner's trust and discovered that the woman lived in the abandoned home because she would have to give up her dogs if she moved into public housing. The woman agreed to have her dogs spayed along with puppies from a litter and then introduced the staff to her neighbors.
This approach is called "locking the block" and engages and empowers pet owners who may have otherwise never visited a shelter or a veterinarian. The Pets for Life program is successful because it builds strong relationships and delivers promised services to people and pets who are all too familiar with being let down.
Community outreach events are frequently held in neighborhoods across the country and hundreds of pet owners arrive early to line up in parks or down city blocks for free vaccinations and spay/neuter services. Families that are struggling financially are given free pet food.
The program also introduces families to the work of neighborhood shelters so that they can adopt a pet. These families are often viable candidates for adoption, but for the most part have no idea that they can find a loving pet at a local shelter.
Through my company, PRAI Beauty, I have become a sponsor of Pets for Life. This program ensures that everyone has the opportunity to experience the joy and comfort a pet brings and is able to access vital veterinary services for their beloved pets.
REAL LIFE. REAL NEWS. REAL VOICES.
Help us tell more of the stories that matter from voices that too often remain unheard.