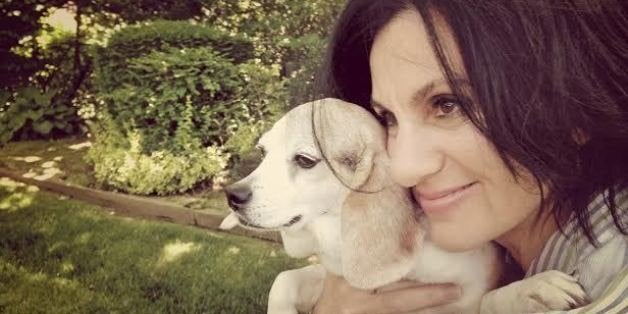 Ever since she was a little girl, Beth Zimmerman harbored a passion for rescued animals. It wasn't until later in life, however, that she discovered a way of turning that passion into action.
Zimmerman, 51, spent her early childhood in New York City before relocating to Long Beach, Long Island. In the suburban seaside town, Zimmerman's parents added dogs to their family, and always made sure to adopt from a shelter. The pets gave Zimmerman some of her fondest childhood memories. A sense of patriotism also ran deeply through her family -- even without a strong military heritage.
"My dad used to always say, 'Bar none, hands down, we live in the best country on the planet,'" Zimmerman told The Huffington Post. "We grew up appreciating it and feeling really grateful for the opportunity to be an American."
After studying philosophy in college, Zimmerman took several career paths, searching for the job that would make her feel entirely fulfilled. She taught freshman writing at SUNY Stony Brook for a year, completed her master's degree in architecture at Carnegie Mellon University, worked as an architect in Manhattan for a decade, found her way into branding and strategic marketing for a number of years, and even started a strategic consultancy of her own that she still manages today.
But through each of these endeavors, she felt that something was missing.
On Memorial Day in 2009, Zimmerman discovered that missing link while she was doing what helps her come up with her best ideas: washing dishes. Standing in her kitchen and cleaning up from her holiday celebration, she experienced one of those "a ha!" moments.
"I just thought about veterans and pets, and this instinctual idea I had was these are two populations with very complementary needs -- animals who desperately need a loving and permanent home and veterans who, for a wide range of reasons in their lives, would benefit from having a new pet friend," she said. "And I'm one of these people where as soon as I get an idea in my head, I'm driven to see it through."
She immediately began drafting her business plan and discussing it with colleagues she could trust to be honest with her about her idea for a new nonprofit organization. In a matter of weeks, she prepared a strong outline for the charity, secured pro-bono work to get it off the ground, and filed the 501(c)(3) authorization paperwork.
Four years later, Pets for Patriots, a nonprofit organization that helps pair homeless dogs and cats with veterans in need of a friend, is going strong in more than 35 states. To find pets in need, the charity partners with shelters, rescues, SPCAs, humane societies, municipal animal controls, and any kind of animal welfare organization that is engaged in saving, rehabilitating and rehoming dogs and cats. Veteran referrals come from a variety of organizations that help former servicemen and women.
Because one of Zimmerman's goals is to give the most overlooked pets a permanent home, Pets for Patriots supports the adoption of adult cats and dogs, special needs cats and dogs, and large-breed dogs regardless of their age.
Veterinary partnerships allow the organization to offer a continuous discount on pet care, and Pets for Patriots gives each veteran a $150 gift card to a major pet retailer for "welcome home" basics after the adoption of their pet is finalized. Through various sponsorships and partnerships, Pets for Patriots is also able to offer discounts on pet necessities like leashes, treats and pet insurance.
Pets for Patriots celebrated its first pet adoption in July 2010. During its first year, it coordinated five or six adoptions, Zimmerman said, and the number climbed to 75 by the end of the second year. Today, the group is on the cusp of its 600th adoption. The team also grew from just Zimmerman to a talented and passionate board and support team -- including a Vietnam veteran who felt inspired to volunteer after adopting his dog through the organization.
"Things just started steamrolling," Zimmerman said. "The demand is tremendous from veterans, shelters and veterinarians who want to join our program, so much so that we have a wait list so we can grow in a responsible and manageable way. Our goal is not just adoption but surrender prevention and to do everything we reasonably can along the way."
"Adoption saves two lives," she said, adding that veterans have told her their pets give them a sense of purpose, a reason to get up in the morning, and sometimes even a reason to live.
"I think once I realized that this is something that I could do, I also realized that this was something I should do," she said. "I knew that my life would change, but I really felt like I had to do it. It was a calling. ... This is where I'm supposed to be. I don't think I've ever felt such an article of faith about anything else I've done with my life."
Zimmerman hopes that Pets for Patriots will have partnerships in every state by the end of 2015, and do away with its need for wait lists. She's excited to find a way to grow fast enough to help everyone who's interested in the program.
Zimmerman occasionally picks up a small project at her strategic consultancy, but she admits that most of her time goes into Pets for Patriots -- and she wouldn't have it any other way.
"Even though I've found other things in my life very gratifying, this is extremely gratifying in a soulful way. I never thought of myself as a do-gooder -- I'm an extremely imperfect person, but it feels right."
Related