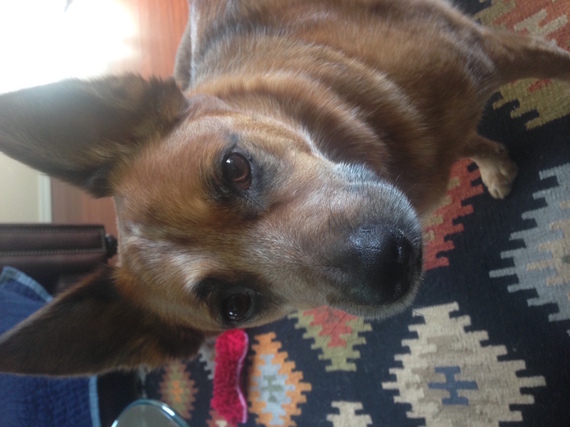 On Tuesday night our red heeler and I spent hours at the emergency room veterinary hospital. He had gotten into an altercation with the two dogs who live behind us, and though a chain link fence separated them (or because of the fence?) he came into the house walking on three legs instead of four and leaking blood all over the new carpet.
The front desk staff called for triage and immediate care, and after the initial assessment, I was told the proposed course of action, given a range of what it could cost depending on what they found (after anesthetizing him and shaving, cleaning, and examining the wound areas), and asked to sign whether or not I wanted him resuscitated should his heart stop beating. The form stated an extra $350 if they had to do CPR. I went with my initial instinct, but then as I sat in the waiting room, I wondered what the dog himself would want. And what about my 17-year-old stepson who officially "owned" the dog, or my husband who was at work on the other side of the world? I had married into the family and the dog and other animals eighteen months ago. This was a scenario none of us had discussed. And how many other people (significant others, pet sitters, pet hotel employees, finders of strays) have been in my shoes?
Dr. Patty Khuly on PetMD says this about the form and her experience at her vet neurologist/oncologist/cardiologists:
"If your pet should suffer a cardiac or respiratory arrest during his or her stay here, how would you prefer we care for him/her?
Since I was pretending to be quick and efficient and in control I checked the first box quickly:
Please make all efforts to resuscitate my pet.
That's when I noticed the next two lines:
Please do not make any attempts to resuscitate my pet.
Please euthanize my pet in the event of an arrest.
Oh, God. What box should I check? I stood there stupidly for what seemed like an eternity (but which probably lasted only a couple of seconds) deliberating with myself."
She admits that in the end she checked the third box since her animal had been having neurological problems and had almost died a few days before. But how does one prepare for this question?
Veterinary Business Advisors says that ideally owners would fill out the directives prior to the onset of an emergency (meaning your vet could give the forms to take home during one of your routine annual visits) so that you could, 'think about the ethical, emotional and financial ramifications associated with the consequences of their decisions," writes Dr. Christine A. Lacroix, DVM, JD.
Veterinary Business Advisors also recommends that pet owners draft a living will for their animal, as well as listing a medical power of attorney. A sample form drafted by Dr. Lacroix is found here.
People who travel frequently and who have the same steady pet sitters or dog walkers may want to discuss their wishes with those people and either provide them copies of the documents (in case they have to take the pet somewhere other than the animal's usual vet, such as an animal emergency room after normal business hours) or file them with the primary vet's office.
Other things that may be taken into account besides the pet's current health could include any chronic issues, age of the pet and its role in the family, and your personal finances. What can you realistically afford in terms of your pet's care? Dr. Khuly remarks honestly in PetMD article that if it had been her young, healthy Frenchie, she would have checked resuscitate, but for Sophie with her neurological condition, I "hoped I'd done the right thing. I mean, I can't afford high end CPR anyway, right?"
Part of healthy living -- for us and our pets -- is to be prepared in emergencies. Since the dog himself cannot say his preferences, like a grandmother or great uncle might be able to, we will sit down as a family with the forms and make the decisions necessary for his future care and file them with our papers and with his regular vet. And hope that we'll never have a repeat of Tuesday night again.