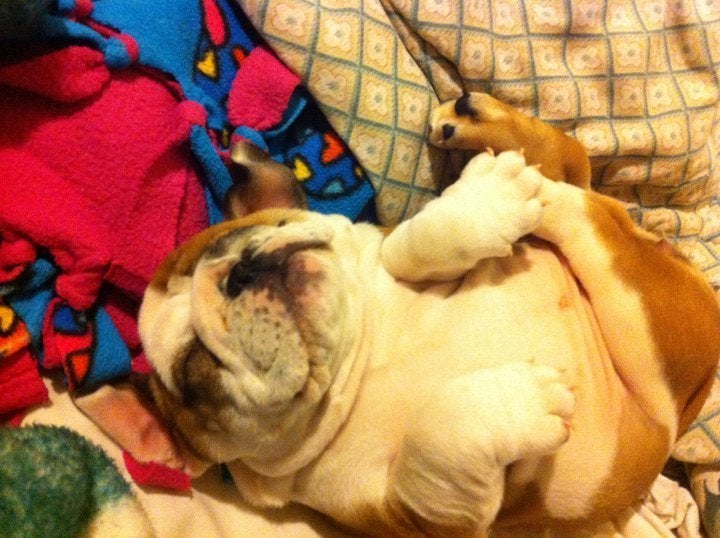 Rita, the adorable four-month-old English bulldog puppy depicted above, was allegedly strangled to death while in the care of PetSmart's groomers, the LA Weekly first reported.
The owners of the pup, Veronica Espinoza and John Benitez, filed a lawsuit against the store Monday. The owners' attorney, Jill Ryther, gave The Huffington Post an account of what happened on the tragic day of the doggie's death.
Rita's owners dropped her off on May 12, 2011 at 8 a.m. at the PetSmart in Downey, Calif. Two hours later, they received a call from the store saying that Rita was throwing up blood and that they needed to take her to a veterinarian right away. Espinoza and Benitez rushed over and took Rita to the vet, where she died 45 minutes later.
Ryther said that the necropsy results suggested that the dog had been strangled. "The report said that because her lungs had been filled with blood, she wasn't able to breath," explained Ryther. "Her trachea was pushed up four or six inches, possibly from trying to revive her."
She continued, "It looked like someone had tried to do CPR on her after she stopped breathing. There were marks on her neck looking like she'd been strangled."
Owner Benitez recounted to HuffPost, "We were all going through a rough time when we got Rita, and when we would come home to her, she made us laugh. She was such a perfect puppy." He continued, "The way she died and the way they handled the situation, it was just so horrible. It made the situation so much worse."
In regards to the cause of Rita's strangulation, Ryther said, "I have no idea whether it was intentional or the dog was left unattended and somehow was hung. I really don't know."
After Rita's death, PetSmart sent Espinioza and Benitez a check for $2,000 and offered to replace the puppy in exchange for them agreeing not to sue, according to Ryther. The owners did not agree and, instead, contacted Ryther.
On June 6, 2011, Ryther sent a letter to PetSmart clarifying that her clients do not accept the check. The letter added, "The tragic death of Rita cannot be cured simply by you replacing her with a new puppy."
Because the store ignored the letter, Ryther said, she filed the lawsuit. Ryther and her clients are seeking damages in excess of $25,000, which includes pain and suffering, medical expenses, punitive damages and lost wages. Ryther said that, because the owners are "really traumatized," they've missed a number of days of work.
In response to the lawsuit, PetSmart released the following statement to HuffPost:
The death of Rita, an English Bulldog puppy, is a tragic loss. Many of us at PetSmart are pet parents, and no words can express our deep sorrow for this family's loss.


We take very seriously the trust placed in us by pet parents who each day leave their pets in our care. Nothing is more important than looking after the safety and well-being of pets as if they were our own.


The facts as represented in the recently distributed press release by an attorney are not what we believe to be true relative to this unfortunate situation. As a practice, however, PetSmart does not comment on pending litigation.
Benitez recalled the day Rita died to HuffPost: "I took the day off because it was her first time being groomed, and we were so excited. I played with her all morning. It was such a good day." After Rita died, he said, "I feel so bad, like I took her to her death."
Check out pictures of the puppy, Rita, here: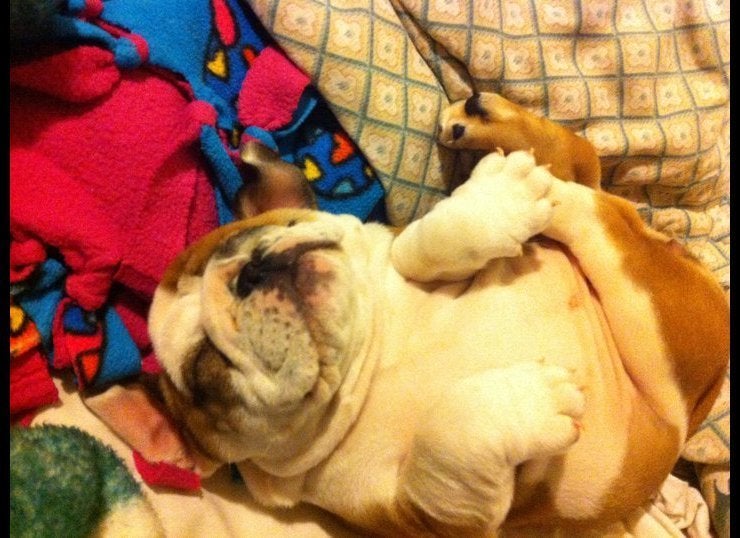 Related
Popular in the Community