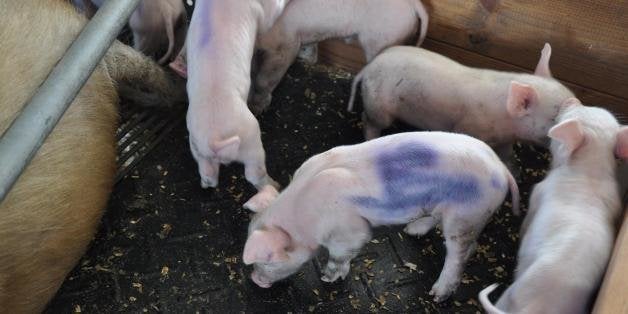 Ken Keyes suspects it was high school kids who snuck onto his Maryland petting farm, spray painted his 650-pound sow and her week-old piglets, then stole his tortoise -- her name is Henrietta -- earlier this week.
The pigs are going to be fine. Julia, the mom, was emblazoned with the phrase "Hello My Pretty," while her 11 babies had letters spray-painted on their backs.
Luckily, the pig vandals -- who also wrote "Urbana Rules" on a sign, suggesting attendance at a nearby high school -- used Blu-Kote antiseptic spray on their victims, which comes out a kind of violet hue but is not harmful.
"It's a safe product to spray on animals," Keyes tells HuffPost, adding that the graffiti was "not very artistic," and "shows what the school system is today."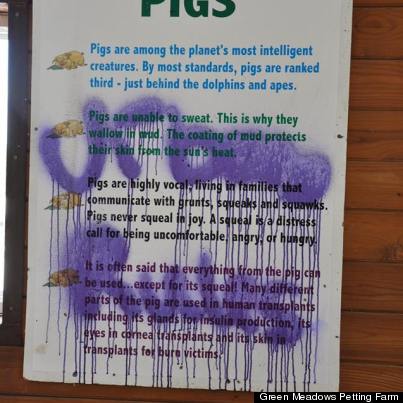 The pigs enjoyed a good washing when they were discovered in their inartfully accessorized state on Tuesday morning. The farm is also back open for business, and Keyes is grateful for the outpouring of support, and mindful that "a lot worse could have gone on," especially since his brother and his brother's fiance were caught in a tornado in Iowa, right around when the break-in took place.
"That happened at the same time," he says. "In the whole scope of things..."
There are no leads yet as to who absconded with Henrietta. But Keyes is hopeful, all the same, that someone will recognize his tortoise -- who is, he says, "bigger than a basketball" and requires a special diet of fruits and vegetables -- and call the Maryland State Police, or even just bring her back home.
REAL LIFE. REAL NEWS. REAL VOICES.
Help us tell more of the stories that matter from voices that too often remain unheard.
BEFORE YOU GO
PHOTO GALLERY
Animals In The News