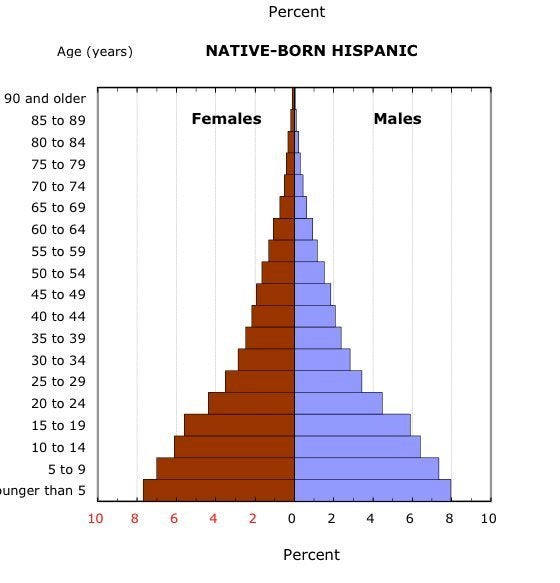 While 2010 Census data showed us how quickly the Latino population has grown in just ten years, a new statistical portrait released Tuesday by the Pew Hispanic Center illustrates just how young that population is.
New population graphs, which depict how the Latino and non-Latino populations break down in terms of age group, show that Hispanics skew much younger than their white counterparts.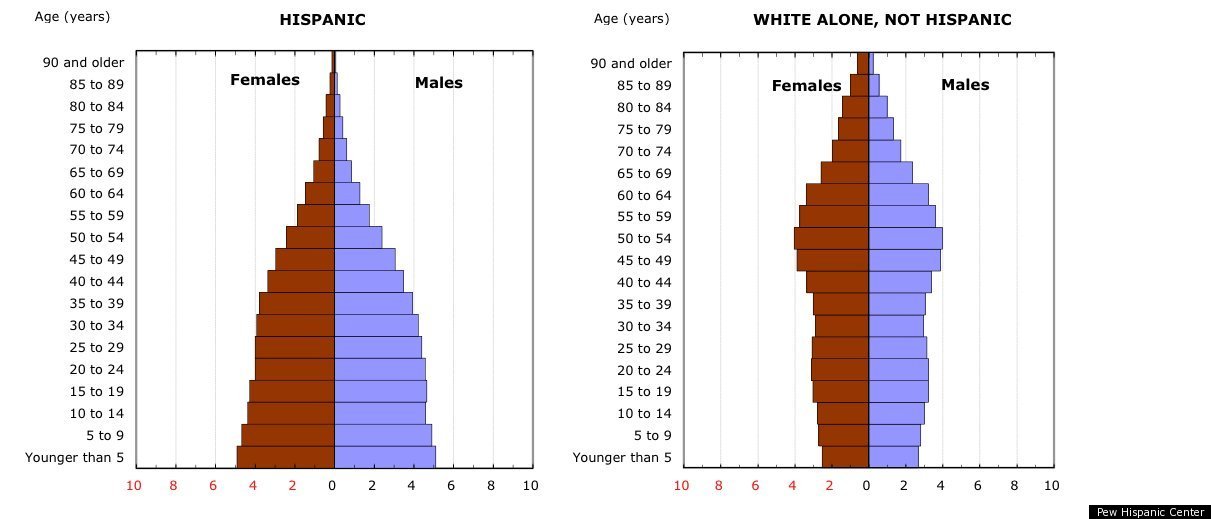 Another graph, which isolates only native born Latinos living in the United States is even more drastic. The graph shows a strong pyramid shape with 0-5 year olds making up the largest portion of the population:
The same statistical portrait holds that 8.1 of Hispanic women in the United States have given birth in the last year, while only 5.9 percent of white women have done the same. According to another Pew Study, about one in four babies born in 2008 had a Hispanic mother.
Many believe the shifting demographics of native born Latinos will mean increased political influence and purchasing power in years to come.
Chiqui Cartagena, the VP of Corporate Marketing for Univision, said at a AdWeek panel in October that politicians would do well to focus their energies on the Latino demographic now.
"Every year 500,000 or 600,000 Latinos turn 18, so the parties have an opportunity to engage this voter earlier on," she said.
Glenn Llopis, a business commentator and HuffPost LatinoVoices blogger, believes that corporate America is just starting to take notice of young Latino purchasing power, and are finally starting to market towards a bicultural, English-speaking, Latino audience.
"As the Hispanic consumer purchasing power numbers shift in favor of new marketplace opportunities - an awakening is taking place," Llopis wrote in blog for The Huffington Post.
He added that, "it's time for America's corporations to all recognize and become a part of the foundational restructuring... that awaits American enterprise by 2050."
Calling all HuffPost superfans!
Sign up for membership to become a founding member and help shape HuffPost's next chapter
BEFORE YOU GO
PHOTO GALLERY
American Latinos: By The Numbers