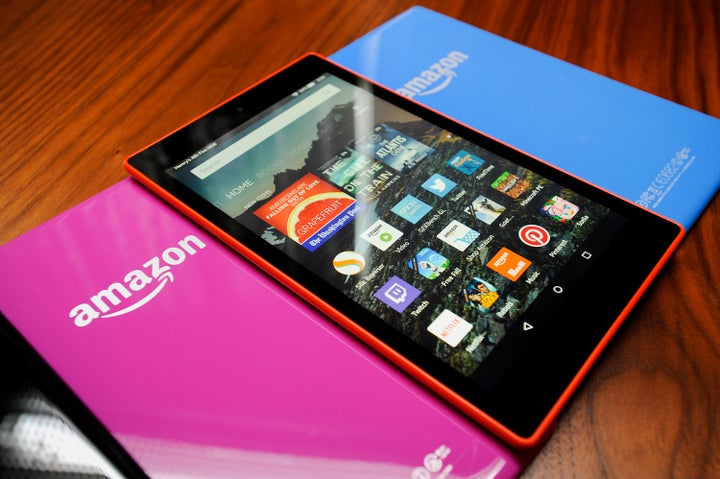 Tablets like the iPad and Amazon Fire might seem like the perfect holiday gifts, but think twice: New research suggests your friends have one already, especially if they're wealthy.
The Pew Research Center on Wednesday released an analysis revealing that 60 percent of Americans who make $75,000 or more own a smartphone, computer and tablet. Overall, one in three Americans own all these devices.
You probably could've guessed that yourself, but the news arrives at an interesting moment for consumers: Tech companies are doing their best to offer new takes on the tablet in order to win your attention and cash.
While Pew's research indicates that many Americans are likely to own all three types of devices, companies like Apple, Samsung and Microsoft are trying to sandwich those categories together. Apple's new iPad Pro is marketed as a productivity beast that could replace your laptop, Samsung's gigantic Galaxy View tablet could be your next TV and Microsoft's Surface Book lets you rip the display right off the keyboard for a touch-screen experience.
Why the focus on tablets? Well, tablets have a less obvious purpose than phones or computers. If you're a smartphone user, you probably can't imagine life without your handset. At the same time, computers are productivity machines that speak for themselves. As smartphone screens get bigger, tablets become less relevant because they're really just giant phones. If you're trying to chill in bed with some Netflix, you could probably hold your iPhone 6S Plus a little closer to your face and survive without an iPad.
Pew's new report indicates that of people who own just one device, only 7 percent make that device a tablet.
Indeed, an annual financial report published by Apple in September shows that net sales of the iPad have declined since 2013, first with a 5 percent drop in 2014 followed by a 23 percent drop this year. Meanwhile, iPhone sales are ballooning.
You could think of this as a moment of transition for the technology you see on store shelves: A substantial portion of American consumers already own the devices they need, and companies are trying to make the tablet relevant with quirky new devices that turn them into something else entirely.
Of course, traditional tablets are sticking around for now. But for a sense of how they're valued, consider this: Amazon offers a Fire tablet that's cheaper than a new video game. Traditional tablets are officially in stocking-stuffer territory. And like most stocking-stuffers, they're probably bound to gather dust.
PHOTO GALLERY
The Most Stylish Tech Gifts
Calling all HuffPost superfans!
Sign up for membership to become a founding member and help shape HuffPost's next chapter