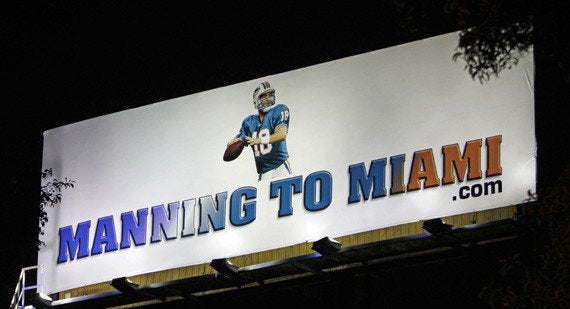 As Tim Tebow's backup with the Denver Broncos noted, billboards can apparently be effective in determining who starts at quarterback for an NFL team. It looks like fans of the Miami Dolphins were taking note of what happened in Denver.
In an effort to persuade the Dolphins organization to pursue Indianapolis Colts star Peyton Manning, Miami fans set up a website called manningtomiami.com and advertised it on a billboard near the team's facility. Scroll down for the photo.
According to the site, the campaign was created to "to help influence Peyton Manning and the Miami Dolphins that 'Manning to Miami' is a movement and marriage that the entire South Florida community is behind."
However, Dolphins fans aren't the only ones trying to bring Manning to their city. Titans fans also started an ad campaign in January in order to convince the four-time MVP to return to Tennessee, where he starred in college.
"It's kind of evident to the sports world they're going to let Peyton go, they're not going to pay him the money that he's due and he's going to be a free agent," said Todd Mayo, one of the creators of www.comehomepeyton.com.
In late January, a public spat between Manning and Colts owner Jim Irsay made it seem that one of these suitors would likely land the quarterback. Shortly after Manning publicly complained about the atmosphere at the team headquarters, Irsay called him a "politician" for not keeping his feelings in house.
Related
Popular in the Community