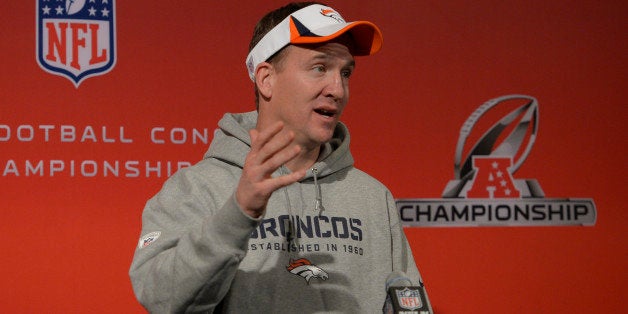 That is, if Omaha Steaks were actually offering an endorsement deal and if Manning were actually considering it.
ESPN pondered the possibility of in-game verbal advertising by a player, and Manning's repeated use of "Omaha" before the ball is snapped became a natural jumping-off point. What if the Denver Broncos quarterback simply added "Steaks" to the phrase and did strike some sort of arrangement? It wouldn't defy NFL rules, the article concluded through an NFL rep.
According to the sports network, a sponsorship evaluation firm said each mention during this weekend's game for the AFC title would be worth $500,000, and each mention in the Super Bowl would be worth $1.3 million.
Omaha Steaks told The Huffington Post that talk about a deal was entirely hypothetical. "We have not, however, been approached, nor are we involved in any discussions with Mr. Manning or his agents," a spokeswoman said.
The rep did, however, relay one bit of money news: All the publicity around Manning's frequent utterance of "Omaha" has prompted Omaha companies to band together to donate $500 to Manning's PeyBack Foundation for every time the Broncos signal caller says "Omaha" against the Patriots on Sunday.
Calling all HuffPost superfans!
Sign up for membership to become a founding member and help shape HuffPost's next chapter