Perhaps the greatest passing quarterback of all time has officially thrown his last completion. Peyton Manning, 39, announced his retirement at an emotional press conference Monday, thus ending one of the most decorated careers in NFL history.
"There's something about 18 years -- 18 is a good number -- and today I retire from professional football," Manning began.
"I revere football. I love the game. You don't have to wonder if I will miss it. I will absolutely miss it."
As soon as Manning stepped up to the podium, he was fighting back tears. And he only got more choked up, more emotional, as he discussed his gratitude for the teams he's played for, the coaches he's learned under and the loved ones who have supported him along the way. 
In the packed-house presser, which took place at the Denver Broncos' team facility, Manning was preceded on stage by team president Joe Ellis, general manager John Elway and coach Gary Kubiak. Each stressed the professionalism with which Manning has carried himself on and off the field, with Elway stating three times how utterly Manning has "revolutionized the game."
Ellis labeled him "magnificent." Elway deemed him as good as anybody who has ever picked up a pigskin. Kubiak called him a great example of a person and a player. 
"'I'ma find out what you're doing, then I'ma pick you apart,'" Elway said of Manning's on-field mentality.
Manning's regular-season résumé is second to none. After being selected No. 1 by the Indianapolis Colts in the 1998 draft, Manning made a career for himself by riding his right arm to countless improbable, come-from-behind victories. Leading his Colts to nine consecutive postseasons and seven straight campaigns of at least 12 wins, "the Sheriff" amassed four MVP trophies while living within the city limits of Indianapolis, before nabbing one more in 2013 as a member of the Denver Broncos.
Manning will hang it up as the NFL's all-time leader in passing touchdowns and passing yards, having sneaked past Green Bay Packers great Brett Favre for the records in 2014 and 2015, respectively.
"There are other players who were more talented, but there is no one who could out-prepare me," Manning said Monday. "And because of that, I have no regrets."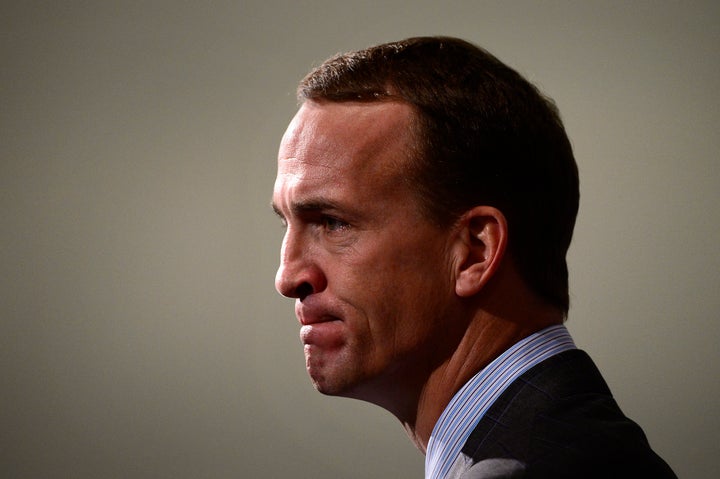 While the 18-year veteran spent much of his career out of the tabloids, Manning was embroiled in scandal this past December, when an Al Jazeera report claimed that he had received human growth hormone -- a performance-enhancing drug banned by the NFL -- in the aftermath of his 2011 neck surgery. To this day Manning has denied the allegations, but the case remains riddled by unanswered questions and unsolved coincidences.
The controversy surrounding Manning continued even in the days following his Super Bowl 50 swan song, when the New York Daily News received and reported on 74 pages of damning court documents that tie Manning to a 1996 sexual assault incident involving himself and University of Tennessee athletic trainer Jamie Naughright. 
While Manning did not address either of these allegations during his prepared remarks, he was asked about the sexual assault case during the ensuing Q&A session. Manning effectively batted away the reporter's question, dismissing it by deeming the accusation a falsity, then turning to humor to cut the tension and regain his footing.
"I think it's sad that some people don't understand the truth or the facts. I did not do what has been alleged," he responded. "Like Forrest Gump said, 'That's all I have to say about that.'"
After dedicating nearly two decades of his life to the grit and grind of the NFL gridiron, Manning has now, officially, played his last down. On Monday, looking back, Manning only had positive words to say about those 14 years in Indiana and that handful of seasons in Colorado, about all those records he broke and the 71,000-plus passing yards he tallied -- about all that made him one of the best to ever don a helmet and pads.
"I've learned a lot from my mistakes, stumbles and losses in football," Manning continued. 
"I've fought a good fight, I've finished my football race and after 18 years, it's time. God bless all of you. And God bless football.""
At the end of the news conference, Manning leaned into the microphone and uttered his trademark "Omaha" one more time. Then he stepped back from the podium and stepped off the stage, thereby officially stepping away from the game he so completely "revolutionized."  
BEFORE YOU GO
PHOTO GALLERY
Amazing Photos From Super Bowl 50