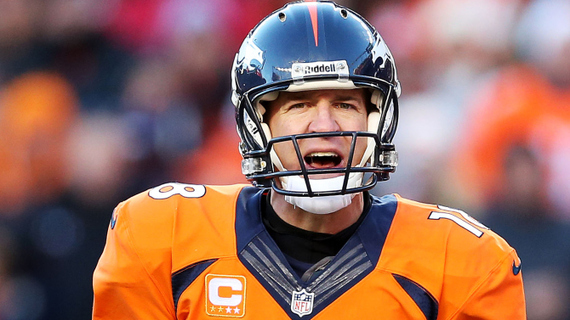 When Colts owner Jim Irsay released Peyton Manning in 2012 due to him missing a season with a neck injury, everyone thought it was the final chapter in a storied football career that had Hall of Fame written all over it.
It could very well have been, had Manning decided to hang up the cleats for good and call it a day.
But given his undying spirit and devotion to his craft, he refused to buckle. Then John Elway appeared, and wooed him to the Broncos, where he'd help the team get to the post-season numerous times and appear at two Super Bowls inside of four seasons, while setting numerous all-time passing and touchdown seasonal and career records along the way.
He's recently been honored as the greatest person in Colts history, and the team is building a statue of him at their stadium to enshrine him forever in football glory. But he will not officially be retiring as a Colt. And I'm OK with that.
Wary of an Irsay move to get a retirement nod from Manning, Elway wisely instead kept him on the injured/retired list, and never actually released him.
One has to think that this was planned perfectly, as Elway wasn't about to let his Super Bowl cowboy ride off into the sunset on a different trail.
Bear in mind that around five years from now, when Manning is officially inducted into the Hall of Fame, it will bear both team's namesakes in the billing. So what team he "officially" retired from only matters so much in the end. But it is symbolic. And that's why it's good he's not retiring as a Colt.
In a gist, Manning was offered a one-day contract with the Colts to retire as one. In essence, it would have meant that he'd come back and give them the glory they desired and that final finish that was lacking when he was released by the team.
Let's not forget that the Colts were already finished with him and had moved on years ago.
The reality is this. The Colts should have stuck by their man. He obviously had the better part of two more Super Bowls in him and some NFL records that will probably never be bested by any QB for a long time, if ever.
The reality is that the Colts got spooked. They had a bad season. Instead of drafting Andrew Luck and letting him learn under the league's most brilliant QB mindset, they instead parted ways with him and gave him the boot.
They should have instead borrowed a page from the Patriots, who stuck by Tom Brady during the 2008 season, in spite of him missing the entire season with two different foot injuries.
Suddenly, Manning came back, spurring the Broncos to eight post-season games, two Conference Championship wins, two Super Bowl appearances and a Super Bowl 50 win.
It was obvious that the greatness wasn't nearly over. This old horse had some fight left in him yet.
The Colts should have stuck by their man under center. But they got a bit yellow.
The Sheriff still had many miles more to ride on his steed. But they canned him, and he hopped on another Bronco to ride off into the Super Bowl 50 sunset.
It's a hard pill to swallow. That's why they call them horse pills.
Visit

NowItCounts.com

,
The Destination for Americans 50+

for stories that matter to you covering financial, health, beauty, style, travel, news, lifestyle, food, entertainment and sports.
Calling all HuffPost superfans!
Sign up for membership to become a founding member and help shape HuffPost's next chapter