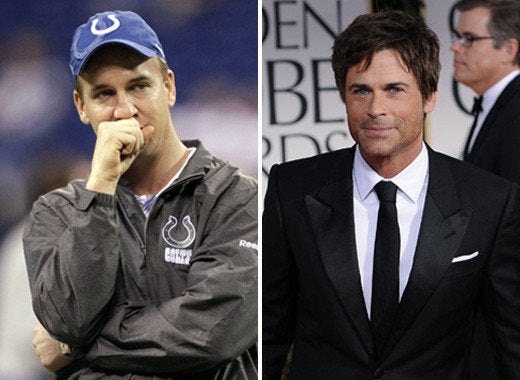 Rob Lowe has been many things during his acting career. He has been a heartthrob, a pariah, a villain in Wayne's World and then a leading man once again. He may be adding NFL reporter to his resume.
On Wednesday afternoon, the star of television shows such as "Parks and Recreation" and "The West Wing" tweeted that his "people" were telling him that Peyton Manning is set to retire from the NFL.
In response to Lowe's tweets, NFL Network analyst Rich Eisen responded.
But Eisen was far from the only person on Twitter to notice Lowe's unexpected piece of NFL personnel news. Here are some of the best reactions.
Although the source of this rumor is unexpected, such a tweet by a veteran NFL reporter such as Adam Schefter or Jay Glazer wouldn't have seemed entirely out of the blue. After all, Manning missed the entire 2011 NFL season due to a serious neck injury and the team is positioned to draft Stanford's superstar quarterback Andrew Luck with the No. 1 pick in the upcoming NFL Draft. Colts owner Jim Irsay has also been cleaning house after the team stumbled to a 2-14 record without the franchise's iconic quarterback. Irsay fired longtime Colts vice president Bill Polian as well as general manager Chris Polian. Manning was reportedly stunned by that news. Irsay then hired Ryan Grigson as the team's GM. In one of his first moves, Grigson axed coach Jim Caldwell. Several hours before his Manning tweets, Lowe actually tweeted at Irsay to offer his suggestions about who should replace Caldwell as the team's coach.
After all of this change, Manning's retirement -- or trade -- is the only thing holding up the start of the Luck Era in Indy. Reached for comment by NFL.com reporter Jason La Canfora, Manning's agent was skeptical of Lowe's sources.
Despite the disbelief greeting Lowe's tweets from the football community, the actor seems to have some connection to the owner of the Colts -- and, therefore, he could actually have "people" with the inside track on such news. In a story about the tweets, USA Today ran a picture of Lowe with Irsay at a Super Bowl Party in 2010. The Associated Press reported that the actor was the first person that Irsay followed upon joining Twitter. However, any relationship that does exist between the two men did not stop Irsay from responding by starting a scandalous rumor of his own.
Judging by the vituperative reaction from Irsay it seems possible that Lowe's sources didn't mean that Peyton was literally retiring.
UPDATE: Alan Nierob, Rob Lowe's manager, told Deadspin that his client has no comment on his tweet.
Calling all HuffPost superfans!
Sign up for membership to become a founding member and help shape HuffPost's next chapter