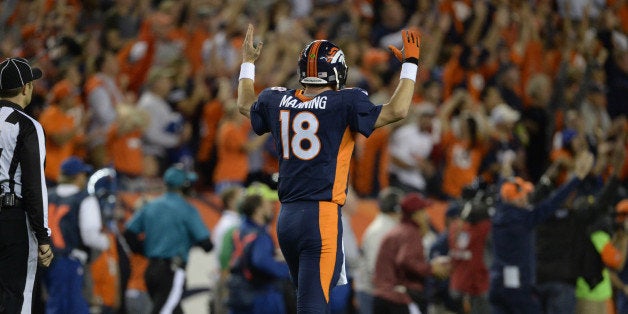 Move over Brett Favre. Peyton Manning is the NFL's new all-time leader in career touchdown passes.
The Denver Broncos quarterback threw his 509th career passing touchdown on Sunday night against the San Francisco 49ers, passing Favre's mark of 508 on the all-time list. After throwing his 507th and 508th career touchdown passes in the first quarter, the 38-year-old found wide receiver Demaryius Thomas for an 8-yard touchdown pass before halftime.
After the play, Manning had a little trouble getting the touchdown ball back from Thomas and his other receivers. Thomas, Wes Welker, Emmanuel Sanders and tight end Julius Thomas played a little keep-away with their QB (Update: The celebration was planned by Peyton).
Manning added No. 510 and his fourth touchdown pass of the game in the third quarter when he found Thomas for a 40-yard score. He went on to complete 22 of 26 passes and finished with 318 passing yards as the Broncos blew out 49ers, 42-17.
"It's quite an honor. I do have great appreciation for the quarterbacks that have played this game throughout the years. So I'm honored just to play the position. It's very humbling," Manning said of the record after the game. "I think Brett has always known he's one of my favorite players. He played the position with so much passion and just great toughness and great productivity as a quarterback. So I just want to tell him thanks, and I'm honored to sort of join this club with him."
More from the Associated Press:
DENVER (AP) — Peyton Manning broke Brett Favre's NFL record for touchdown passes with his 509th.

The record-breaker was an 8-yarder to Demaryius Thomas with 3:09 left in the first half that gave Denver a 21-3 lead over San Francisco on Sunday night.

Manning's receivers played keep-away with the milestone memento before Manning got the ball and congratulations from his teammates.

Favre sent along his congratulations via a scoreboard video he taped from his home in Hattiesburg, Mississippi.

Manning went into the game with 506 and needed just four drives to break Favre's record.

He threw a 3-yard TD pass to Emmanuel Sanders on Denver's first drive and tied the record when Wes Welker took a pass over the middle for 39 yards. Sanders' score was his first in Denver, and he became the 47th player to catch a TD pass from Manning.

Manning reached the milestone in his 246th regular-season game. Favre needed 302.

As Manning approached the milestone, Favre told The Associated Press he was thrilled "it's Peyton that's doing it. I think a lot of Peyton. I know him well. I know his family well. His dad was one of my idols."

Favre, who grew up in the Gulf Coast watching Archie Manning and the New Orleans Saints, sent along his well wishes last week to Manning, the only player in NFL history with more MVP awards (five) than his three.

The veneration is mutual.

Saying he appreciated Favre's words of encouragement, Manning suggested that of all the men who have ever taken a snap in the 94-year history of the NFL, "nobody's defined longevity and career toughness more than him."

Favre played in a QB-record 297 straight regular-season games during his 20-year NFL career, plus another two dozen in the playoffs.

"He always answered the bell every single Sunday and was always producing," Manning said. "And growing up in the South, both of us, Brett has always said he was a big fan of my dad's, so there's been kind of a mutual respect there from my family to him, as well. And I always enjoyed watching him play. Nobody played the game quite like he did. He's truly a one-of-a-kind quarterback."

Favre said that were it not for Manning's neck problems at the tail end of his tenure in Indianapolis, Manning might very well have gone on to eclipse his most hallowed mark, the consecutive games streak, and certainly would have obliterated his career touchdowns mark by now.

"I know Peyton missed a year. Aside from that year, he's played just like I did. I mean, he's been out there over and over and over again," Favre said.

Manning's 208-game starting streak ended when he sat out the 2011 season following neck fusion surgery.

With the top pick and Andrew Luck there for the taking, the Colts and Manning had a tearful goodbye. And Manning landed in Denver, where he rejuvenated both his stellar career and a foundering franchise.

In Indy, Manning averaged 1.92 touchdown throws per game. Since joining the Broncos in 2012, he's averaged almost three TD throws a game.

Favre said he enjoys pulling up a chair at his home and watching Manning go to work.

"He's a throwback, a pocket passer, in a mobile quarterback league," Favre said. "Peyton's one of the last guys to play the way he does. And at 38, he's still the best at what he does."

___

AP NFL website: www.pro32.ap.org and www.twitter.com/AP_NFL

___

Follow AP Pro Football Writer Arnie Melendrez Stapleton on Twitter: http://twitter.com/arniestapleton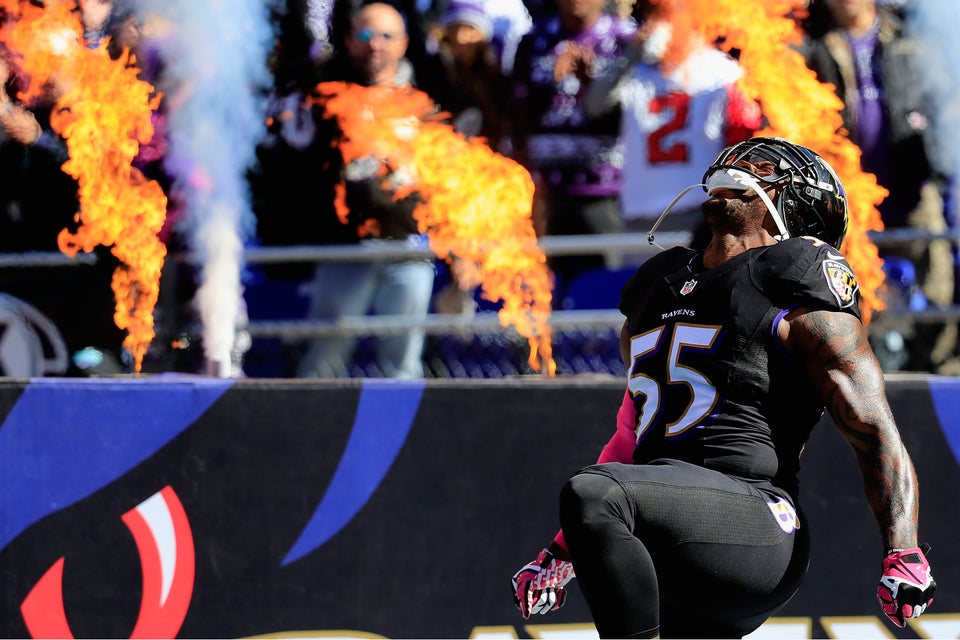 PHOTOS: NFL Week 7
Popular in the Community