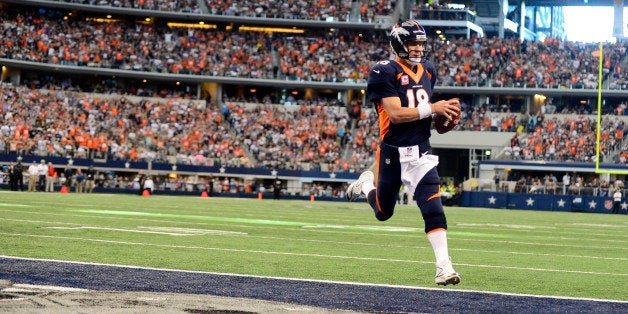 It is Peyton Manning's world, and we're all just watching him score touchdowns in it.
The Denver Broncos' quarterback continued his record-shattering start to the 2013 campaign in a 51-48 win over the Dallas Cowboys. In addition to breaking Daunte Culpepper's 1998 mark for most touchdowns passes thrown during the first five games of a season, Manning did something with his legs that he hadn't done since October 2008.
The 37-year-old pocket passer executed a naked bootleg on a 3rd-and-goal play in the second quarter so perfectly that it fooled both the Cowboys defense and the CBS broadcast crew. Manning meandered to his left untouched and briefly unwatched for the 1-yard rushing score.
GIF: Manning Runs For Touchdown
Manning finished the first half with three passing touchdowns and this rare rushing score. He then capped the Broncos' first drive of the second half by throwing a touchdown pass to wide receiver Wes Welker. That toss was his 20th passing touchdown of the season against zero interceptions.
Giving hope to defenses across the NFL, Cowboys safety Morris Claiborne would intercept a pass thrown by Manning later in the third quarter to send the INT-less streak. Giving less hope to those teams, Manning accounted for five total touchdowns and 414 passing yards as the Broncos improved to 5-0.
BEFORE YOU GO
PHOTO GALLERY
PHOTOS: NFL Week 5