Roughly 19 million people across the country are being exposed to toxic compounds in drinking water, a new study has revealed.
As of March, highly toxic fluorinated compounds called PFAS were found in 610 locations, including drinking water sites and military sites, in 43 states, according to the study released Monday by Washington, D.C.-based nonprofit Environmental Working Group and Northeastern University's Social Science Environmental Health Research Institute.
PFAS, otherwise known as perfluoroalkyl and polyfluoroalkyl substances, are manufactured chemicals used since the 1940s to create items ranging from cleaning products and water repellants to food packaging and paint.
Aside from the prevalence of PFAS in everyday products, a major challenge of eradicating the substances is that they are not biodegradable, earning them the nickname "forever chemicals."
A map of contaminated sites across the U.S. provided by the study and created using data from the EPA, the Defense Department and Northeastern University, shows that drinking water systems throughout Michigan were hit hardest. Most of those cases were not close to Flint, the city that is still recovering from a water crisis that began in 2014.
There were additional clusters of cases on the Northeast coast, in the Southeast and along the West Coast.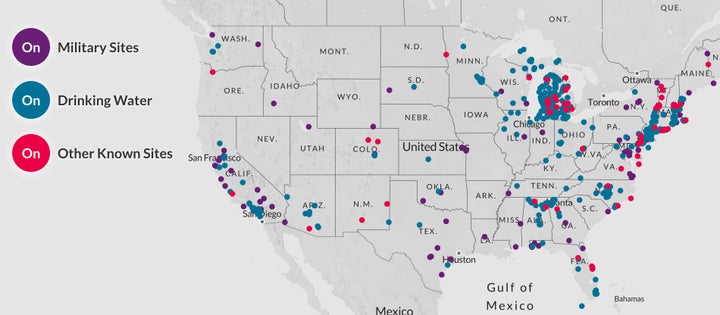 In February, the EPA unveiled its action plan to address PFAS chemicals ― a multipronged effort focusing in part on research, cleanup recommendations and making more data publicly accessible.
However, critics say there is already enough data to justify regulatory action from the EPA.
In a statement, EWG President Ken Cook claimed the EPA had "utterly failed to address PFAS with the seriousness this crisis demands, leaving local communities and states to grapple with a complex problem rooted in the failure of the federal chemical regulatory system."
"EPA must move swiftly to set a truly health-protective legal limit for all PFAS chemicals, requiring utilities to clean up contaminated water supplies," he added.
To avoid coming in contact with PFAS, EWG advises staying away from microwavable popcorn bags and limiting fast food intake, since fast-food packaging tends to be treated with PFAS. Consumers should also be cautious when buying waterproof clothing, nonstick pans and stain-repellent furniture and carpeting.
In a statement sent to HuffPost on Wednesday, the EPA suggested EWG's map could be misleading and questioned the accuracy of its data, noting that the graphic "seems to show any samples for PFAS chemicals that have been collected, which may or may not be detections."
"Because EPA has not fully reviewed the quality of the underlying data, and based on the agency's commitment to good risk communication with the public, EPA cannot recommend the map be used to determine where public health risks associated with PFAS chemicals may or may not exist," the agency added, emphasizing its action plan instead:
EPA's robust efforts which have either been taken or are committed to in the Action Plan build on the agency's 70 ppt drinking water health advisory for PFOA and PFOS that was issued in 2016. Since issuing the health advisory, EPA has taken action, including issuing orders under the Safe Drinking Water Act Section 1431 and is working with states and responsible parties to protect public health.
This story has been updated with a response from the EPA.
Popular in the Community