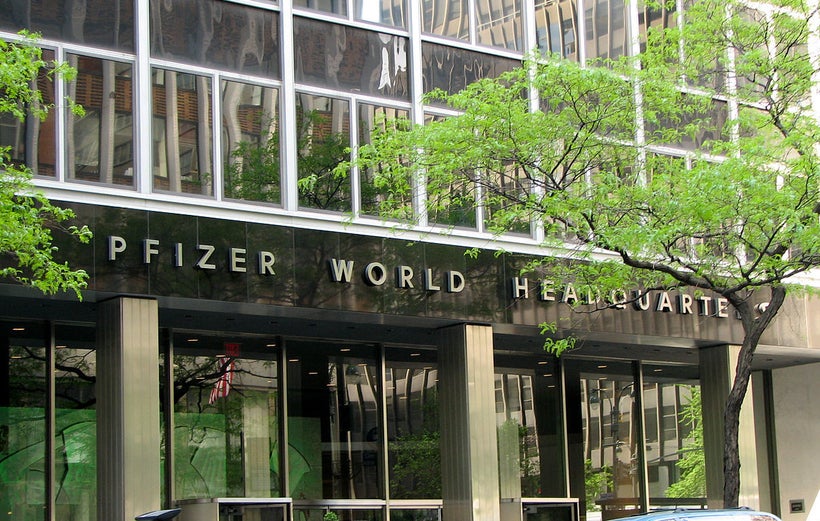 Over the weekend, Pfizer announced it is closing its neuroscience division. In a statement, the company said it made the decision in order to "focus on those areas where our pipeline, and our scientific expertise, is strongest."
Pfizer is the world's third largest pharmaceutical company (by revenue) and its neurosciences group has nine drugs in clinical development, including four for Alzheimer's. Over the last 20 years, Pfizer has sponsored or co-sponsored 99 clinical trials of 24 potential Alzheimer's drugs and had only one approval: Aricept (donepezil hydrochloride). Pfizer should be commended for the efforts it made. A single human clinical trial can cost 10s to 100s of millions of dollars, depending on its size and stage. Pfizer has already weathered several expensive Alzheimer's drug failures, including dimebon and bapineuzumab. Though the potential return of an FDA-approved treatment for Alzheimer's is high, it may not be higher than the near-term risks and costs required to get there.
Big Pharma and Alzheimer's
Pfizer isn't the only pharmaceutical giant to decide the cost of Alzheimer's drug research and development may not be worth it. The clinical pipelines of the other nine largest pharmaceutical companies list only eight Alzheimer's drugs in development. Four of the companies—Johnson & Johnson, Bayer, GlaxoSmithKline, and Gilead Sciences—list none.
Alzheimer's is a complex disease, which makes it difficult to develop effective drugs. It remains the only top 10 cause of death without proven prevention or treatment options. The pharmaceutical industry has primarily focused on drugs targeting beta-amyloid, a protein that comprises the plaques found in the brains of Alzheimer's patients. All but one of the eight Alzheimer's treatments in clinical development at the largest pharma companies are targeting beta-amyloid. (The final one is focused on tau, which is found in tangles.)
But questions remain about the amyloid theory of Alzheimer's as anti-amyloid drugs continue to fail. While it is still possible that an anti-amyloid treatment will make it, it is likely that any clinical benefit to patients will be modest. I and many other experts believe that Alzheimer's, like cancer and diabetes, will require a combination of drugs tackling several of its underlying causes.
A Way Forward
PhRMA, a trade group representing leading pharmaceutical research and biotechnology companies, found that less than a quarter of clinical-stage Alzheimer's drugs are being developed by the large pharma companies.
Many more are at small biotechs, often founded by academic researchers to further the development of a drug they created. These firms are taking calculated risks on innovative targets to treat Alzheimer's. Many of their drugs target the biology of aging—such as increased inflammation, epigenetic changes, and mitochondrial dysfunction—rather than beta-amyloid plaques. Aging is the single biggest risk factor for Alzheimer's, so a focus on aging biology makes sense.
In its statement, Pfizer said it planned to set up a venture arm to fund innovative drug targets in earlier stages. Essentially, it will offer venture capital to biotechs, outsourcing R&D of novel Alzheimer's drugs. When the drugs are de-risked (e.g., have evidence of effectiveness in well-designed clinical trials), Pfizer can help them get across the finish line. Johnson & Johnson Innovation already does this through JJDC, Inc., its venture capital arm. And Biogen is funding even earlier-stage R&D at academic institutions.
Venture philanthropies, including the Alzheimer's Drug Discovery Foundation (ADDF), have used this R&D funding model for many years. The ADDF (where I serve as Chief Science Officer) provides funding to help promising ideas for new drugs move forward. This approach does involve a high degree of risk, but we have found success. Today, nearly 20% of clinical stage treatments for Alzheimer's received funding from the ADDF.
While Pfizer's announcement was met with some disappointment, it represents a positive shift in the long-term. Pharmaceutical companies have the immense resources needed to conduct large phase 3 clinical trials and bring a drug to market. Biotechs have the ability to take risks on novel, often untested ideas in the early stages of drug R&D. By providing capital to biotechs, managing late-stage clinical trials, and handling commercialization, Pfizer and other pharmaceutical companies can still help the most promising Alzheimer's drugs get to patients faster.
Calling all HuffPost superfans!
Sign up for membership to become a founding member and help shape HuffPost's next chapter
This post was published on the now-closed HuffPost Contributor platform. Contributors control their own work and posted freely to our site. If you need to flag this entry as abusive,
send us an email
.