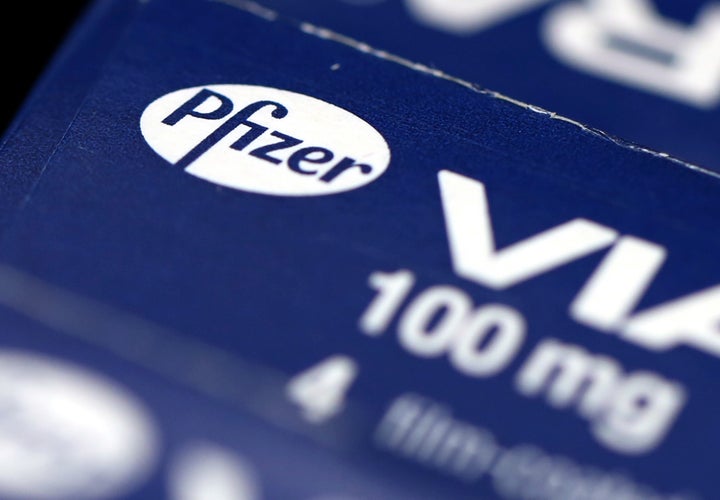 Pfizer went on a shopping spree this week, spending nearly $15.6 billion on two acquisitions to boost its array of cancer drugs and antibiotics.
The Viagra maker on Monday bought Medivation for $14 billion, adding the San Francisco-based firm's lucrative prostate cancer drug Xtandi to its roster of oncology treatments. On Wednesday, the company announced the purchase of U.K. rival AstraZeneca's antibiotics division for $1.575 billion plus royalties to bolster a part of Pfizer's business that's been hurt by expired patents.
The deals mark a departure from Pfizer's attempts in the last two years to merge with rivals in low-tax Britain or Ireland in hopes of dodging taxes in the United States. Instead of boosting its bottom line by skirting taxes, Pfizer is trying to do better at what it's meant to do: make and sell pharmaceuticals. 
In 2014, Pfizer aggressively tried to buy AstraZeneca outright for $119 billion. Last year, Pfizer was at it again, bidding up to $160 billion to buy Botox-maker Allergan and move to Ireland, a favorite offshore destination for corporations to store their cash.
Such schemes, called "corporate tax inversions," essentially allow a company to absorb a smaller competitor in another country, then adopt the acquired firm's citizenship in order to lower their taxes. On paper, the U.S. has a high corporate tax rate, but loopholes and generous tax breaks lower that number dramatically.
The average effective tax rate for companies is 27.1 percent, compared with 27.7 percent for most other developed economies, according to estimates by the Congressional Research Service. For big companies, which can spend lots of money on lawyers and accountants to structure their businesses to be "tax-efficient," the number is even lower. A survey of 288 corporations, including most Fortune 500 companies that turned a profit between 2008 and 2012, paid an average federal tax rate of just 19.4 percent during that period, according to Citizens for Tax Justice.
In April, hastily passed rules by the U.S. Treasury Department ― seemingly tailored specifically to spoil Pfizer's deal ― forced the company to ditch its plan to move abroad. But analysts at the time warned The Huffington Post that the new regulations didn't go far enough to prevent Pfizer or others from trying to finagle similar deals in the future. 
For now, at least, the rules have made tax inversions less attractive. Pfizer, founded in Brooklyn 167 years ago by two cousins who invented the antibiotic oxytetracycline, can use its deep pockets to get better at producing better drugs for sick people, not bigger stock dividends for shareholders.  
Ben Walsh contributed to this story.
REAL LIFE. REAL NEWS. REAL VOICES.
Help us tell more of the stories that matter from voices that too often remain unheard.
BEFORE YOU GO