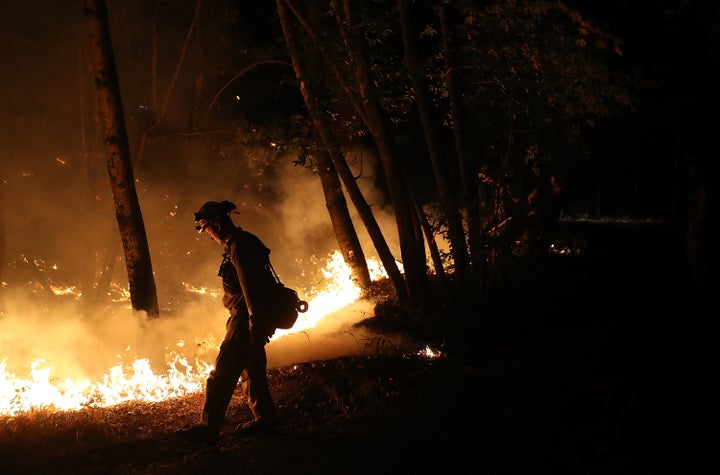 A bill set to be introduced in the California state legislature next year would block public utilities from passing the cost of wildfire claims and damages on to consumers. 
As state regulators investigate the deadly blazes that broke out last month in Northern California, four lawmakers are hoping to prevent the Pacific Gas and Electric Company and other utility companies in the state from billing their customers for any costs they may incur if they're found to be responsible for the fires. 
PG&E has acknowledged that some of its electrical lines and poles went down as a result of wind or falling trees around the same time the fires began. At issue is the question of whether those incidents in fact started the fires ― and whether, if that was the case, it happened due to negligence on PG&E's behalf. The fires ultimately burned more than 100,000 acres and left 43 people dead. If found responsible for the blazes, the utility could be on the hook to pay billions of dollars in damages. 
San Diego Gas & Electric, another major California utility, found itself in a similar situation after Cal Fire, the state's forestry department, determined that the company's power lines had started a series of 2007 wildfires that killed two people and destroyed 1,300 homes. The utility has since asked state regulators to let it bill its customers for the $379 million in damages that weren't covered by the company's insurance.
PG&E officials have supported that case, lobbying regulators last month to allow utilities to pass on wildfire liability costs to ratepayers by charging a higher monthly rate for electricity. Officials argued that worsening fire conditions and the current state of the insurance market have made it "untenable" for utilities to shoulder the entire cost of wildfire damages themselves. 
The four Democratic lawmakers, however, don't think consumers should be forced to pay for utilities' mistakes.
"This practice is an outrage," state Sen. Jerry Hill, one of the bill's co-sponsors, said in a statement. "Victims of devastating fires and other customers should not be forced to pay for the mistakes made by utilities. It's time to stop allowing utilities to push the burden of their negligence onto the backs of customers."
The bill, which is also backed by state Sens. Mike McGuire and Scott Wiener and Assemblyman Marc Levine, is expected to be introduced once the state legislature reconvenes in January.
PG&E spokesperson Ari Vanrenen said in a statement that "while we all want answers, we must address these climate-driven natural disasters and come together to find solutions that protect our infrastructure and keep our communities and customers safe."
"Catastrophic wildfires pose real risks to our entire state's economy and infrastructure. They don't recognize or respect the boundaries of one energy company versus another. Given these devastating effects of climate change, this is a vital state-wide safety issue that impacts every person and community in the state," Vanrenen said. 
The wildfires, which are now 100 percent contained, blazed through California's famed wine country in mid-October, destroying more than 8,000 homes, prompting 100,000 people to evacuate and causing an estimated $3.3 billion in damage. Full recovery is expected to take years. 
This story has been updated to include PG&E's response.
Calling all HuffPost superfans!
Sign up for membership to become a founding member and help shape HuffPost's next chapter
BEFORE YOU GO
PHOTO GALLERY
California Wildfires From Above