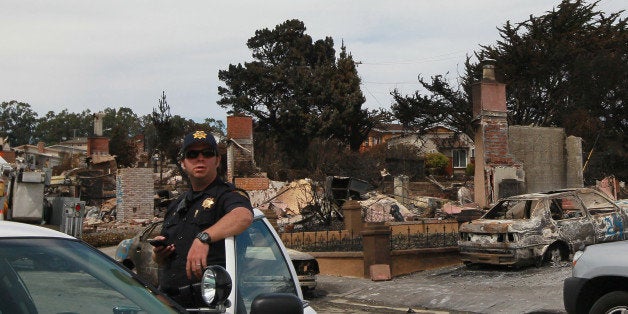 California utility Pacific Gas & Electric expects to pay a total of $565 million in third-party settlements for the deadly 2010 gas line explosion that killed eight people and injured dozens in San Bruno, Calif., the utility said Tuesday.
The settlement total is the outcome of hundreds of lawsuits filed by blast victims who suffered injuries, lost family members or homes in the incident. PG&E has settled all but two claims, which it hopes to close shortly.
"Since the accident our goal has been to help the community rebuild," said PG&E spokesperson Brittany Chord to The Huffington Post.
During a hearing before the agency's chief administrative law judge, the PUC discovered that PG&E had told state regulators that the pipeline was safe, but had not actually kept accurate records, according to the Oakland Tribune.
NTSB also noted that lax state and federal regulations likely contributed to the incident.
Though investigators said that PG&E failures spanned several decades, the company claims that it is committed to fixing the deep-rooted problems that contributed to the incident.
"We hope to make our system one of the safest in the nation," Chord told HuffPost. "We've made significant progress. We've strengthened hundreds of miles of pipeline and we've modernized our entire system. But there's still more work to be done."