Phantogeist, a first person shooter and social, augmented reality game that leverages Google Tango, just made its debut and it's stunning. It's only one of only a small number (37?) of Tango ready apps for the Lenovo's Phab2 smart phone (the only phone on the market with the Qualcomm Snapdragon chip needed to run Google Tango). Because there won't be many other Snapdragon equipped phones in the market until late this year, Google has had to underwrite many of these apps, including Phanogeist, through its Tango app incubator program.
Striking game demo for Tango AR game, "Phantogeist", by Trixi Studios.
In Phantogeist, a friendly alien helps you identify semi-transparent bad aliens. The thing is, you're not on another planet, you're in a parking lot, or living room, or mall—where ever you actually are. Attackers come at you from every direction.
It's social, too, as multiple players can join the hunt in real time. "It is a first-person shooter where players can walk around, inside or outside, and fire at virtual enemies in the actual real world around them," said Trixi founder Chip Sineni. Phantogeist costs $4.99, but of course there's really no one to buy it yet.
One of Trixi's First demos shows the next Pokemon Go is out there, probably anchored to an existing franchise.
Some of the other early apps for Tango/Snapdragon phones are a Hot Wheels virtual test track that allows you to place a virtual set up in your real living room. With a nod to the Sims, Towers for Tango makes you the master of a tiny tabletop city where you can construct apartment blocks, suburbs, etc. Notably, Tango chat seeks to expand a Skype call with games and Snapchat like filters. Slingshot Island from developer Sockethead Games, creates a floating island for you to attack by slingshot.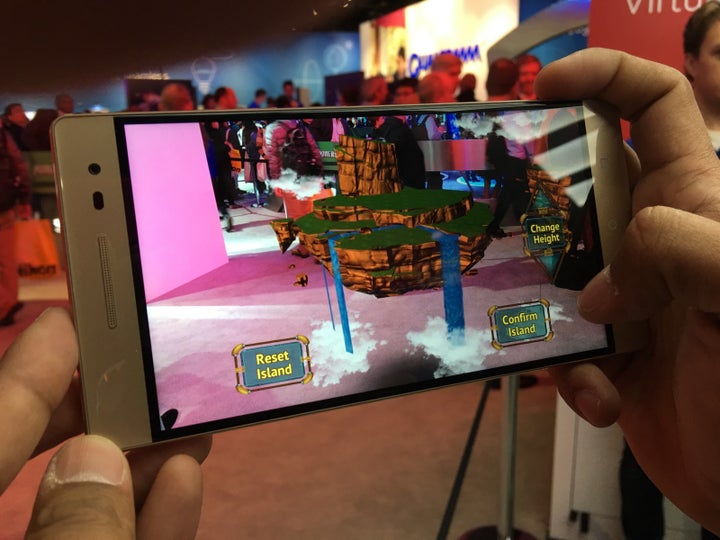 There are a few productivity apps, notably several decorating apps, that accurately measure a room and allow you place furniture and other objects in it, showing off the digital mapping features afforded by the two outward facing sensors.
We're not going to see many devices that can do AR the way the Phab2 can until the end of the year. Samsung has been hoarding Snapdragon chips for its Galaxy 8. Apple is set to make a major AR announcement, which could really kickstart this nascent market—which Google alone seems to be supporting.
For now, following their game's release, Trixi Studios is in repose. Everyone is basically a freelancer. Sineni, cofounder at Phosphor Games, which created the hit Brookhaven Experiment (available on Steam), continues to work on their projects but his faith in the use of AR that Trixi is pioneering with Phantogeist, is undiminished.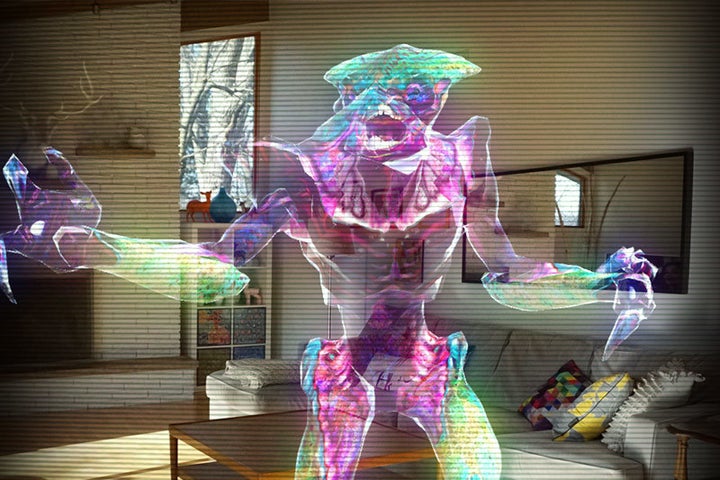 "Right now we're just waiting to see how the experiment turns out," Sineni told me, "other platforms [Microsoft 10, and also, maybe, Apple] are still developing, but AR is a very promising space, not just for games, but for Social AR as well." Indeed, if Snapchat is any indication, we may reach the inflection point of "AR Everywhere" sooner than anyone thinks.
AR has already penetrated many devices used by businesses every day. Regular phones can do AR if activated by an external marker. This AR work-around is increasingly used by marketers like Under Armor and Foot Locker, and several compelling (and not just for kids) toys have come on to the market, like Hologrid and HoloTats (which I wrote about last week).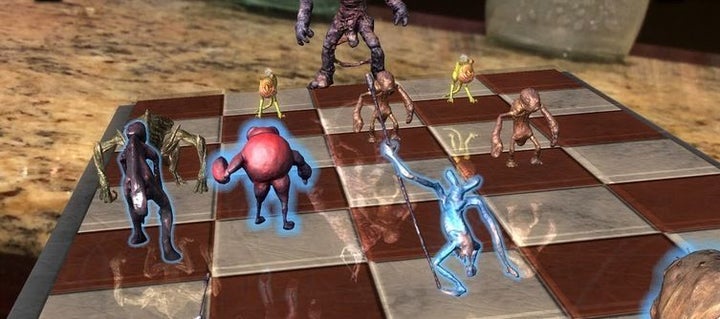 In the video above, the always insightful and entertaining Mister Mobile (Michael Fisher), walks through several Tango apps on the Lenovo Phab 2. "It's a window into another world," he says, before taking the phone down as, well, not a good phone, and Tango as "still raw in the middle" (i.e. not fully baked).
The future never comes fast enough *sigh*, and when it arrives, there's little tech support (I'm talking about you Vive).
Related
Popular in the Community