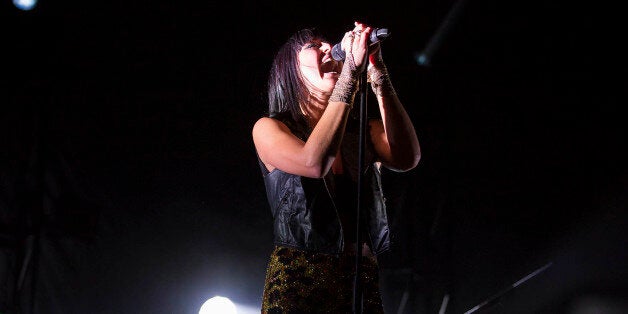 Typical of most events at Madison Square Garden, Monday's show featuring Phantogram as Alt-J's opening act was an entertaining experience. As the electronic rock-infused duo smashed through some of its top hits like "Don't Move" and "Fall In Love," vocalist and keyboardist Sarah Barthel's yellow, sequined, leopard pants reflected the incendiary energy that radiated out to the enthused audience.
"You guys getting sweaty down there yet?" Barthel's soft yet raspy voice screamed out to the crowd.
The hallowed halls of Manhattan's MSG are enough to intimidate even the most seasoned of performers, and despite Phantogram's sound crippling a bit by such a large venue, their performance exceeded what any opener's should: excite the concertgoers and prep them for the headliner, which in this case was Alt-J who left very few seats unfilled in the arena.
In a conversation with The Huffington Post, Josh Carter said that when Alt-J first asked them to open at MSG, both he and Barthel were a bit hesitant.
"At first we said, 'No, MSG is kind of a shit-hole venue, hole in the wall,'" Carter said, laughing. "No, but yeah, they asked us to play and we were like, 'Fuck yeah, so exciting.' They're a really cool band too."
For Carter, whose family has roots in upstate New York, performing at the Garden is both "monumental" and "like the apex."
Phantogram has garnered the attention of top artists like Big Boi, whose tweet about liking the duo's music a few years ago eventually led to a two-track collaboration (one of which also featured A$AP Rocky) on the Outkast member's 2012 solo album, "Vicious Lies and Dangerous Rumors." Phantogram is currently working on a new album, and an EP, with Big Boi.
"I don't really use our Twitter, but Sarah noticed it. She was like, 'Holy shit, Big Boi just tweeted at us, like he really loves our music,'" Carter said, and explained that working with Big Boi may be their most "interesting" and "challenging" collaboration yet because it took them out of their comfort zone.
"Phantogram, it's just the two of us and we're pretty eye-to-eye on most things and also we're pretty easy to shoot down another one's idea if we don't like it without worrying about offending anybody," Carter said. "I guess what I mean by getting out of your comfort zone is like getting out of your own ego and realizing that a collaboration is working with a bunch of people with different ideas."
The group has also collaborated with the classic indie rock band The Flaming Lips, and, as a byproduct of having so many different musical influences, Carter said Phantogram feels limitless with "a well of so many untapped ideas."
"Our music is just a product of our influences and, you know, I'm never worried about running out of cool ideas for songs, like sonically at least," Carter said. "And we're not afraid to write a gothic, country song if it feels right."
Popular in the Community