Reynolds Woodcock, the fussy 1950s London couturier played by Daniel Day-Lewis in "Phantom Thread," is ostensibly the star figure of Paul Thomas Anderson's latest movie. Yet, throughout the film, Woodcock is gloriously upstaged by a variety of supporting characters: namely, the elegant dresses of his own design, and the women who wear them.
Enter Mark Bridges, who has designed the clothes for each of Anderson's films, including "Boogie Nights," "There Will Be Blood," "The Master" and "Phantom Thread."
Embedding himself in sartorial history, Bridges used the sudden opulence of post-World War II Europe to imbue the House of Woodcock with necessary contradictions: The patterns are customary and militaristic, worldly and modern, marked by both lace and "heavy, rich fabrics and colors." Bridges and his team created more than 50 costumes for "Phantom Thread," including wedding dresses, ball gowns and casual daytime looks.
Bridges drew inspiration from the British fashion world, creating regalia based on "research and archeology" from the era. He was given access to the famous dresses housed at London's Victoria and Albert Museum ― including pieces by Givenchy, Balmain, Balenciaga, Charles Frederick Worth, Victor Stiebel and Norman Hartnell. "We could touch [them], see the fabrics," the New York-born Bridges told HuffPost. "But, also, finding incredible knits and tweeds and things already in existing garments from the period ― and being able to use that as a costume [during scenes set] in the countryside ― [made the clothes feel] a little more lived-in [...], which Paul really loved. We had both sides of it: I had to do a movie story, and then I had to do a fashion-house story at the same time."
Ahead of the movie opening in wide release on Jan. 12, Bridges walked us through the designing of four key looks from "Phantom Thread," in which Woodock finds a muse in Alma Elson (Vicky Krieps), whose initial meekness gives way to unlikely resolve. As the impetuous Woodcock incorporates Alma into his life, their romance becomes a game of wit and light sadomasochism. But, amid the lush drama, we never lose sight of those dresses.
The Crimson-and-Lace Debut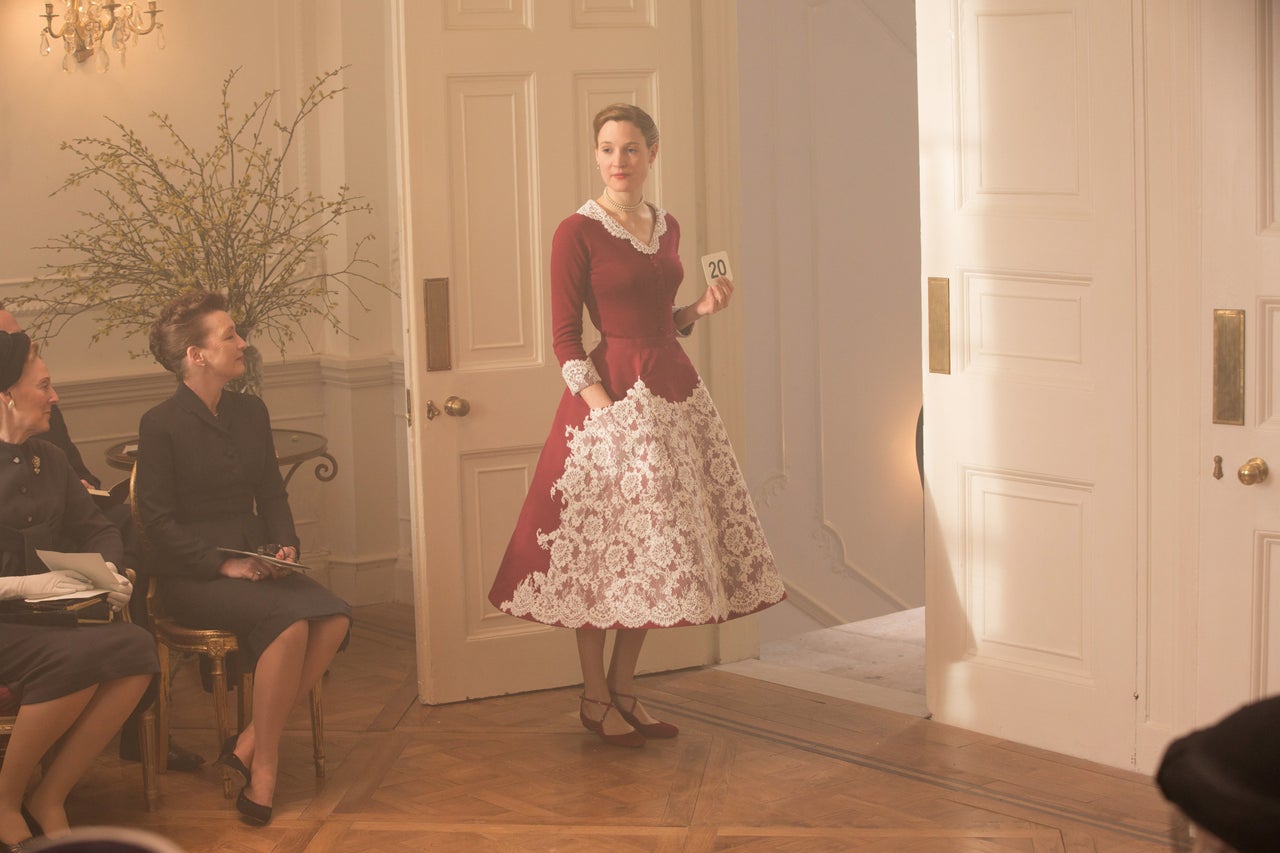 Alma's debut as the House of Woodcock's muse comes during a fashion show for the boutique's spring line, when she models a crimson tea-length dress adorned with lace. Pockets sewn into women's garments made a comeback around the turn of the 20th century, after being sidelined in favor of slender waistlines and restrained designs, according to an enlightening historical overview published by Racked.
Even though pockets were popular with suffragette suits, couturiers did not incorporate them for functional purposes. "Men have pockets to keep things in, women for decoration," Christian Dior said in 1954.
Mark Bridges on the pockets in Alma's crimson dress: "I think when you're at home entertaining your guests, yes, [you can incorporate pockets]. There are things that Queen Victoria wore that she had pockets sewn into for her own convenience. I think because it's a custom garment, anything's possible. And it's a hostess thing. I think it's interesting [Alma] would wear that in the fashion show because she is, in an unspoken way, the hostess of the house. And then that was just an unusual thing of the period, and very British, where there was occasion dressing. At home in the evening, it's an incredibly opulent outfit. But for this clientele of women, they also did casual clothes for their clients, too."
The Lavender Pièce de Résistance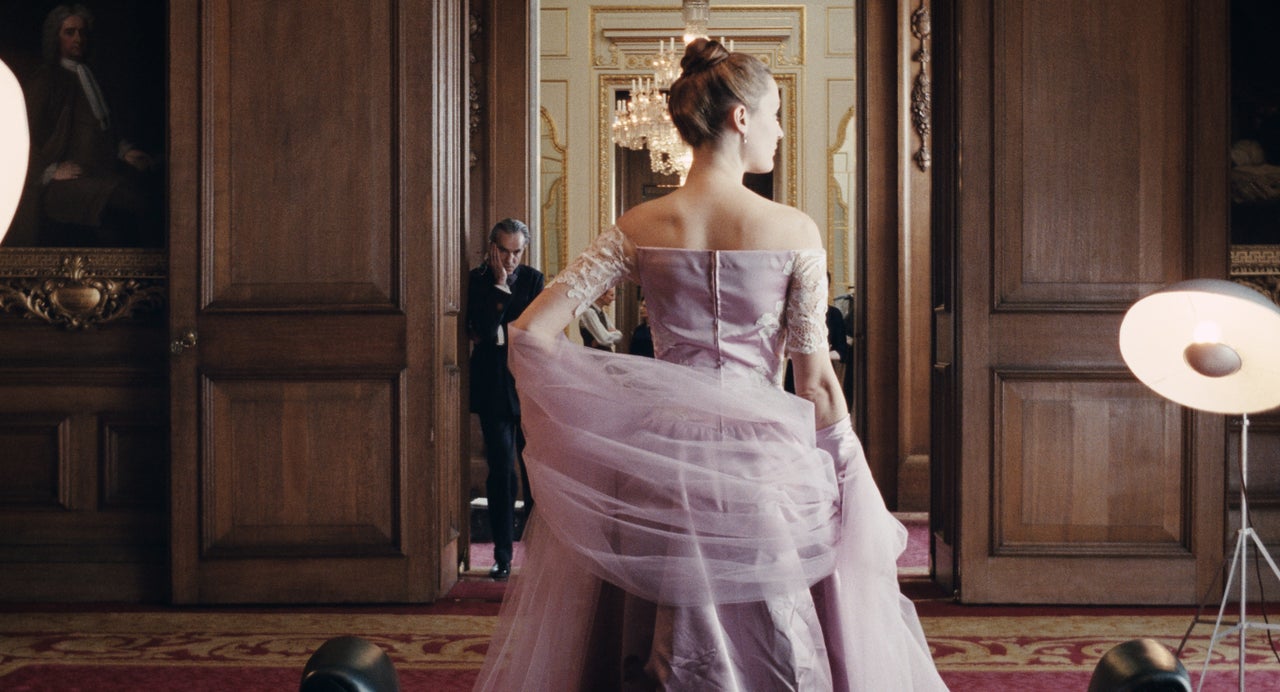 One of the movie's most ravishing gowns, Alma's lavendar ensemble came from Daniel Day-Lewis himself ― or, rather, from Reynolds Woodcock. Famously immersive in his acting process, Day-Lewis selected the hue in character.
Mark Bridges on Alma's lavender dress: "I actually had Reynolds choose that color of satin. He had the input on that. We knew we needed a real piece of some kind of fabric. [Paul Thomas Anderson] had written that this was some special piece of fabric that [Woodcock] had rescued in the war. I think the way it was originally written it was supposed to be satin from some place in France. But then it developed that the House of Woodcock was a house that used a lot of lace. I decided it should be lace [and tried] to find a vintage piece of lace.
"One of my assistants dug around with some dealers over there in London and had found this 17th-century piece of Flemish lace. There were three meters of it. It was only 18 inches wide. It was linen, and linen doesn't self-destruct like silk, which shatters. You can get intact linen from the Egyptian tombs and stuff because it's just really durable. It was really intact and really special, so it had the right energy and vibe for Daniel to believe in it. It had the right decorative quality for me. And [it was] bold enough to mean something. It wasn't little tiny lace that, again, photographed mushy. It had enough zip to be something special.
"And then what do you make it into? It was kind of a combination of this '50s dress that kind of had a vague Restoration period look to it, so we did the lines of that '50s dress, but then played with the substituted lace for it. There's a turn-of-the-century quality with using the lace down at the hemline as well because there's always some vague historical feeling to the Reynolds clothes, too, which, as our research found out, was quite common in the '50s. Some of the designers would riff on another period, like the Tudor period, and reimagine it in the '50s."
The Defiant Dress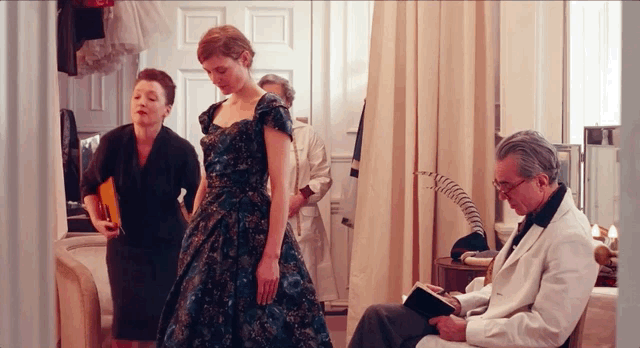 In the span of one scene, Alma transitions from subservient muse to gentle firebrand. During a fitting, she tells Woodcock she doesn't like the fabric he's chosen, launching a quick war of words between the two. "Maybe you have no taste," Woodcock tells her, to which Alma responds, "Maybe I like my own taste."
Mark Bridges on Alma's moment of defiance: "It's interesting because in the story [that dress is] allegedly part of the spring line. There were several dresses that were in the running for which would be the fabric that she would comment on, like, 'I hate this pattern.' I had found one at a vintage show; it was a gown that had never been used. It was sort of blue with black flowers. My idea was there was something vaguely odd and depressing or dramatic about whatever she was going to comment on, like a dark storm or something. For the idea of this to be a floral based in black and purple, which are colors of mourning, and then this blue, you can see why a young girl would not think this was attractive. But then [Woodcock's clients] would think it was fabulous. So that's why we settled on that."
Cyril's Day Look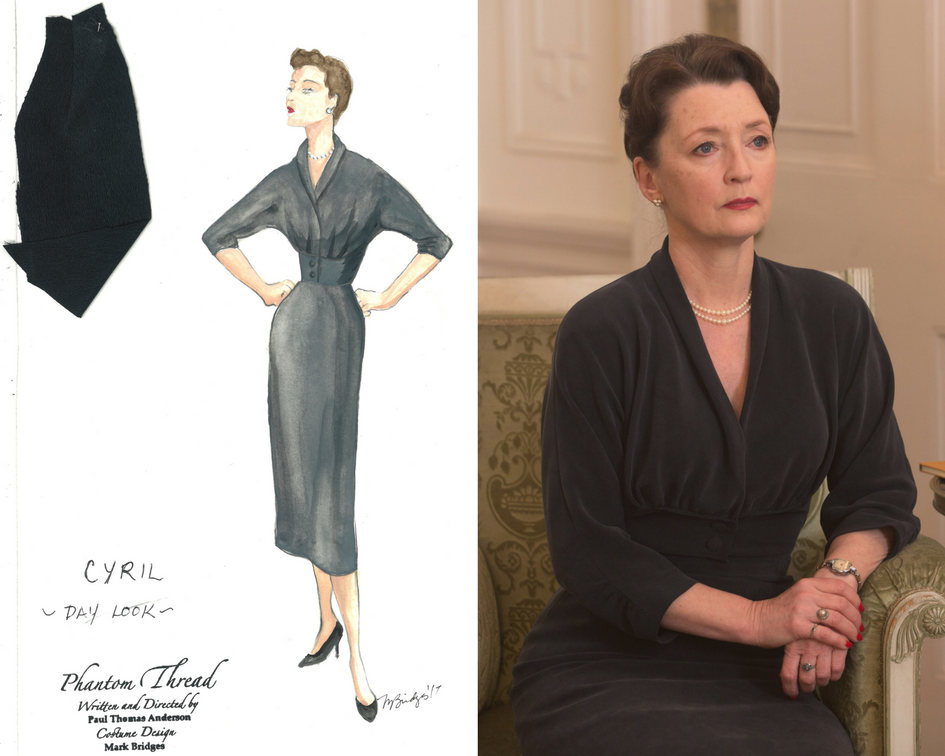 If looks could kill, Renyolds Woodcock would be dead in the opening moments of "Phantom Thread." In the hands of English actress Lesley Manville, Cyril ― Woodcock's sister and business partner ― is a pistol whose glares are worth a thousand daggers. For her so-called day look, as seen in the exclusive sketch above, Cyril wears dark, simple garments that advertise her power.
Mark Bridges on Cyril's day look: "You know, the idea of that was based on reading about the House of Balenciaga and his head salesperson. Their uniform there was kind of navy blue and pearls, nothing that would distract from the fashions. I had originally thought of doing navy for Cyril, but Paul really wanted to show off the pale luminescence of Lesley Manville. He really wanted black, but I felt like the grays would photograph better and be a little more flattering for her — but they still feel black. I have had people talk to me about it and they go, 'I love those black dresses on Cyril.' [I say,] 'OK, I did my job.' She needed to be chic because it would be stuff designed by her brother, and she's representing the house. But then Paul weighs in, and we tailor it to what the actresses like. I have to make things that photograph well ― I have to make film costumes."
Support HuffPost
The Stakes Have Never Been Higher
Popular in the Community