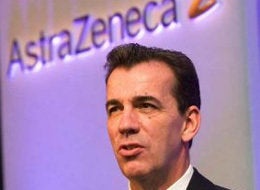 The CEO of one of the biggest pharmaceutical companies in the country said on Friday that he and others in the industry would switch their support for health care reform to opposition if Congress settles on legislation passed by the House of Representatives.
David Brennan, head of pharma giant AstraZeneca, told the Huffington Post that he was pleased with the White House and the Senate Finance Committee for standing by "the principles which we said are really important." The three parties entered into an agreement, before the health care debate heated up, that saw the pharmaceutical industry committing $80 billion to reform in exchange for various assurances -- the primary one being that the government would not use its purchasing power to negotiate cheaper prescription drug prices.
The House, however, hasn't played by those rules. And in an appearance at Bloomberg News's Washington Summitt, Brennan warned that the industry's ample resources could be turned against the broader reform effort if Speaker Nancy Pelosi's legislation were to emerge from the Congress.
"Right now the answer to that is yes," Brennan said, when asked if the support would change to opposition. "We said there were principles we didn't want to see violated. And if those principles -- price controls, Medicare rebates, moving dual eligibles back from Medicare and back into the Medicaid discount program -- if those things happen, I can't see how we could be supportive of the program."
Asked after the conference by the Huffington Post what kind of opposition he was discussing, Brennan refused to reveal his cards.
"We said we are not in favor of the House bill but we haven't seen what they are going to try to reconcile," he said. "We are going to do what we are going to do. Right now we are in support [of the process] because there are certain things we are trying to get into the system which we think make it a better outcome."
Part of that "better outcome" entails the potential for major profits for the pharmaceutical industry. According to an analysis put together by the pharmaceutical research firm, IMS, the industry stands to gain an estimated $137 billion from an improved economy, new market innovations, as well as the deal struck by with the White House and Senate Finance Committee.
And yet, when Brennan was asked whether Big Pharma stood to make profits going forward, he said no.
"Until we really see the elements of a health care bill come through... it is difficult to project," he said. "But right now it is not obvious to me that there is an upside to this."
Asked to reconcile his dour outlook with the IMS data, Brennan replied: "I talk to the IMS. They, I think, have gone from projecting the market would be flat to roughly two or three percent. I think you have to go back and look at their record of prospectively being able to project that out. And right now the market is softer than we probably expected it to be a few years ago."
REAL LIFE. REAL NEWS. REAL VOICES.
Help us tell more of the stories that matter from voices that too often remain unheard.