Some of the music industry's biggest stars are coming together to raise their voices for a cause.
A&E Networks has teamed up with iHeartMedia for a one-hour benefit concert titled "Shining a Light: A Concert for Progress on Race in America" to push the conversation on racial inequality forward. The event, which will air on November 20, will feature performances from stars such as Jamie Foxx, Pink, Miguel, Ed Sheerhan, Jill Scott, Bruce Springsteen, Sia, Zac Brown Band and Smokey Robinson, among others.
An A&E spokesman told The Huffington Post that the inspiration for the concert came from the June massacre at the Mother Emanuel A.M.E. Church in Charleston, South Carolina, as well as various instances of racial tension around the country that have unfolded over the past year.
"By shining a light on the uncomfortable truth that racial inequity and bias still impact our society, we are looking to inspire people to go beyond short-lived, symbolic gestures," said Nancy Dubuc, President & CEO of A+E Networks, in a press release.
The concert will be followed by a one-hour special, "Shining a Light: Conversations on Race and America," which will feature Pharrell Williams, Alicia Keys and John Legend engaging with community members in Charleston, Baltimore and Ferguson, Missouri, to raise awareness about issues of racial inequality in these cities.
The concert is the first initiative in an ongoing series of roundtable discussions held by A&E Network to promote racial justice awareness.
The money raised from the concert and programming will go towards the Fund for Progress on Race in America, which is a grant program for individuals doing work on race-based activism sponsored by United Way. A portion of the concert's proceeds will also go to the Mother Emanuel AME Church in Charleston.
The concert will be broadcast on Nov. 20and will be simulcast online by AOL.
Clarification: Language has been amended to reflect that the concert is not being broadcast live.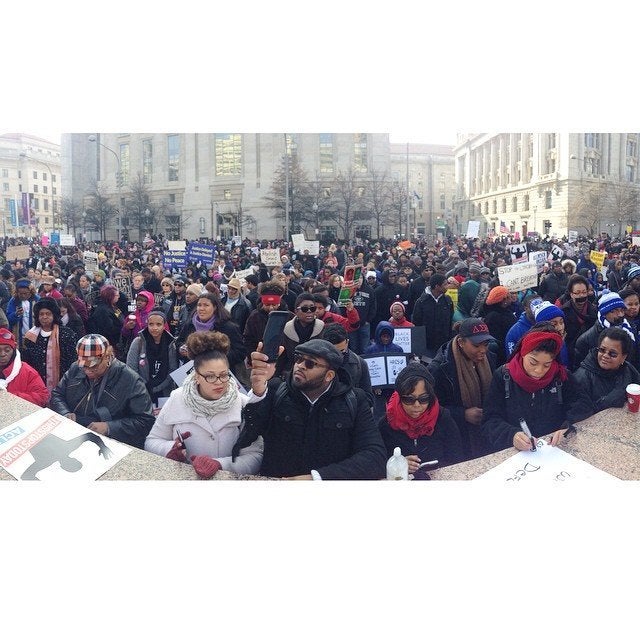 Powerful Black Lives Matter March In Washington
Popular in the Community