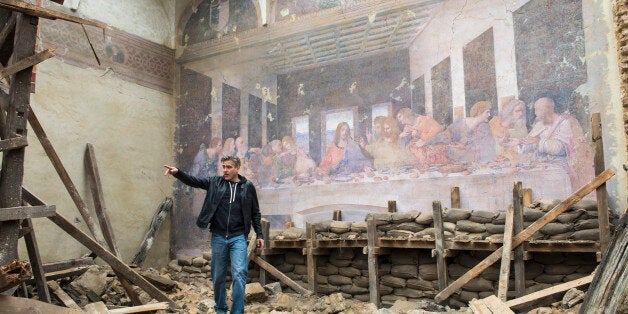 "The Monuments Men" gave co-writer, director and star George Clooney his best debut yet as a director. The Sony release earned $22 million over its three-day opening weekend, $10 million more than Clooney's "Leatherheads" grossed during its first frame in 2008. Like that screwball comedy, "The Monuments Men," based on Robert Edsel's book "The Monuments Men: Allied Heroes, Nazi Thieves, and the Greatest Treasure Hunt in History," is another throwback film from Clooney, a feature that could have easily starred Cary Grant, Sydney Greenstreet and Peter Lorre were it released in 1945. In an interview with HuffPost Entertainment, cinematographer Phedon Papamichael said that is no accident.
"George is very much a fan of that era of films, not just with this one. He attempted something similar with 'Leatherheads.' He watches a lot of films from those days," Papamichael told HuffPost Entertainment. "In this particular case, we looked at movies like 'The Great Escape,' 'Bridge Too Far,' 'Dirty Dozen,' but also recent documentaries like 'The Rape of Europa.' We took a very classic, old-fashioned approach to this. That's not just reflected in the way it's shot, but also the performances and the tone. It's hard to find an audience for that sometimes, because people are maybe expecting something different. They're not used to seeing films that are constructed this way."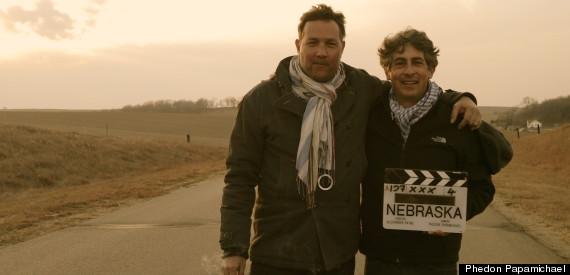 Born in Greece in 1962, Papamichael has become one of the most in-demand cinematographers in Hollywood. Over the last 10 years he's worked with everyone from Clooney to Alexander Payne to Gore Verbinski to Judd Apatow. He's shot Clooney's last two films, "Monuments Men" and "The Ides of March," as well as two consecutive movies for Payne, "The Descendants" and "Nebraska." For that last film, a black-and-white comedy-drama that is one of this year's nine Best Picture nominees, Papamichael received his first Academy Award nomination in the Best Cinematography category.
"I do all sorts of movies, but George, Alexander and I are pretty much the same age. We're from the same generation. The movies that have influenced us, that we watched, are from a similar batch," Papamichael said when asked why he's formed such a bond, in particular, with both Clooney and Payne. "With Alexander, we watched Akira Kurosawa movies, Italian neo-realism. That's just how we grew up. That's our language. You can try different styles, but it just doesn't come naturally. I can watch something like 'Spring Breakers,' and go, 'That looks cool. I'd love to do something like that.' But I don't know. It's just like a painter: some are realist, some are cubist, some are abstract. Every film requires its own language. But I think it has something to do with us being from the same generation and liking the same kind of films."
Beyond that connection, Papamichael is a fit for both Clooney and Payne because of their no-frills directing style. As the cinematographer explained, both men keep their sets very "organic and intimate," an aesthetic that allows for the performances to take precedent over everything else.
"George is very specific about what he needs," Papamichael said about the "Monuments Men" shoot. "We don't do a lot of shots. We typically have very short shooting days. We do one take a lot of times. A lot of those bigger scenes were actually removed from the film, but there were some battle scenes. It would be one take and a tank would stall out in the back. I said, 'We should do another one.' He said, 'Nah, it's okay, I got what I need.' It was very economical the way it's shot. One or two takes, max. When George is in the scene, one take. There aren't a lot of complicated moves. No crane moves. Just very straightforward.
"Alexander doesn't have video playback. He stands next to camera. The only thing he gets a glimpse at is the onboard monitor. It all happens right there," Papamichael continued. "I operate the camera. The actors are all in an eight-foot circle. All the communication is happening on a personal level. Actors appreciate that. Both George and Alexander are very much about performances. We don't over-cover things. We don't do that many takes with Alexander either."
The simplicity served Papamichael well on both films. One of the biggest strengths of "The Monuments Men" is Papamichael's visuals, which often give the World War II drama the look of an art installation.
"A lot of the frames and compositions and the mood took on a painterly quality," Papamichael said. "I was naive. I said to George, 'This is really like a painting, this shot.' He goes, 'Yeah, what do you think? Of course!' When we watched, though, we were looking more at documentaries about the Monuments Men and stills. It didn't really have that quality. It's not how modern war movies usually treat these stories. It's usually with handheld cameras or with desaturation. Much more frantic editorial pace. This is old-fashioned storytelling. It's a slower pace with more composed shots."
That kind of slower pace worked on "Nebraska," too. Papamichael said he was thrilled with the Oscar nomination for that film, while acknowledging that Payne's decision to shoot in black and white maybe helped push him into the final five in the category.
"When you do a Western or a black and white film, you have a better chance to get the attention of your peers," Papamichael said. "I'm happy because 'Nebraska' is a very small movie, and Alexander has never really been close to getting a photography nomination. It's not like you're working for David Fincher or Martin Scorsese, where typically their movies receive cinematography nominations. His films are not known for that. They're smaller and character driven. In a film like this, it makes it extra special. He's very proud. It's fun. I'm enjoying the whole ride. We get to buy new clothes."
"The Monuments Men" and "Nebraska" are out in theaters now.
Calling all HuffPost superfans!
Sign up for membership to become a founding member and help shape HuffPost's next chapter
BEFORE YOU GO
PHOTO GALLERY
Celebrity News & Photos