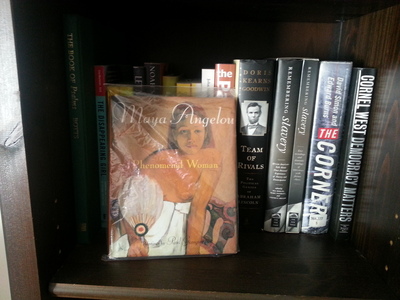 I own an autographed copy of Phenomenal Woman by Maya Angelou. It's on a bookshelf in my bedroom, carefully wrapped in plastic. I show it to people when they come to my home. If I really like them, I'll even let them hold it without the plastic. If my house were to catch on fire and I could only carry 10 things, I would grab this book on my way down the stairs.
It may seem silly to some, to make such a fuss about a book. But in my life, books and words have played a pivotal role in my personal and professional development. Growing up in the inner city of Philadelphia, I didn't hear a lot about self - help and self-efficacy. I didn't have a lot of role models of women who went beyond surviving life to thriving through purpose. What I did have was access to books. And the books and words that filled my eyes and soul changed me in ways I would never imagine.
Maya Angelou's poem, Phenomenal Woman, changed how I saw myself. In fact, I don't think I'd be wrong to say that the message and grace of that poem changed how an entire generation of women thought about themselves.
"Pretty women wonder where my secret lies.
I'm not cute or built to suit a fashion model's size
But when I start to tell them,
They think I'm telling lies.
I say,
It's in the reach of my arms
The span of my hips,
The stride of my step,
The curl of my lips.
I'm a woman
Phenomenally.
Phenomenal woman,
That's me."
Maya's poem reminds us that we are enough exactly as we are. It's an invitation for us to own our unique brilliance. And there's something humbly powerful in declaring who you are in a way that enlightens and elevates all women. That's something we desperately need in a culture where "photo-shopped" personas often overshadow the reality of who we are.
There's another reason this book has so much meaning to me. It was given to me as a gift from Debra, a former manager. It was supposed to be a Christmas gift, but she was so excited that she couldn't wait until then to give it to me. Debra is one of the most brilliant women I have ever met. I only worked with her for less than a year, but she had a major impact on my life and career. I was touched that she had thought of and spoke of me when she had the opportunity to meet Maya Angelou at an event. Debra probably had no idea how much her gift inspired me to hold onto my ambition when I felt like settling for a more comfortable path.
My heart was heavy when I learned of Maya Angelou's light leaving out world today. But when I think about all the brilliance she sowed into the world through her words and spirit, I am confident that her wisdom will live on.
Here are 12 pearls of wisdom from the Phenomenal Maya Angelou:
"If you don't like something, change it. If you can't change it, change your attitude."
"You may not control all the events that happen to you, but you can decide not to be reduced by them."
"The first time someone shows you who they are, believe them."
"My mission in life is not merely to survive, but to thrive; and to do so with some passion, some compassion, some humor, and some style"
"When you know better you do better."
"You may encounter many defeats, but you must not be defeated. In fact, it may be necessary to encounter the defeats, so you can know who you are, what you can rise from, how you can still come out of it."
"The best candy shop a child can be left alone in, is the library"
"Live as though life was created for you."
"Nothing can dim the light which shines from within."
"Surviving is important. Thriving is elegant."
"The problem I have with haters is that they see my glory, but they don't know my story..."
"Instead, pursue the things you love doing, and then do them so well that people can't take their eyes off you."
What's your favorite Maya Angelou quote?
Calling all HuffPost superfans!
Sign up for membership to become a founding member and help shape HuffPost's next chapter