 Is it that hard to find a small business owner who hasn't relied on the government? Apparently for Republican National Convention organizers, it is.
The RNC's "We Built It" night on Tuesday was supposed to "remind America that we are a nation made great not by Washington but by the men and women who summoned the inner drive ... to achieve their dreams within the free enterprise system," as Republican National Committee Chairman Reince Priebus said last week.
But both the man and the woman who spoke Tuesday evening about how they built successful businesses have received support from Uncle Sam.
"When President Obama came on board and pushed the stimulus, I believed my business was going to explode with work," Archuletta told the audience. "Unfortunately, it never happened."
On top of that, Archuletta's business has taken $716,500 in loans guaranteed by the government, according to the Small Business Administration. The latest was a $244,000 loan in 2007 that he used to build a 11,600 square-foot factory, where P&M produced signs for its two biggest customers, the U.S. Forest Service and the U.S. Department of Transportation.
Archuletta does not dispute that he needs fed money to "build it."
"I'm not complaining about Obama's 'you didn't build that' line," Archuletta told The Huffington Post Wednesday. "The U.S. Forest Service is one of my biggest customers -- of course I need them. I'm complaining about Obama's stimulus plan diverting federal contracts away from small businesses like mine and giving them to big corporations."
Archuletta said that "Obama's mishandling of stimulus funds" caused him to lose more than half his annual sales, and in 2010, forced him to lay off half of his staff, which now stands at 20 workers.
"The government isn't giving me anything," Archuletta said. "They're buying a product from me and the loans I got from them, I'm paying them back. They weren't handouts."
Archuletta's path mirrors that of the other small business owner tapped to speak on Tuesday, Sher Valenzuela. As The Huffington Post reported last week, Valenzuela's upholstery business has received $17 million in government loans and contracts, a fact that stands in stark contrast to Republican's mantra of decreased federal spending.
Though promoted as symbols of American entrepreneurs who made it without government support, Archuletta and Valenzuela are two of the thousands of small business owners in the U.S. who rely on federal dollars to survive.
Valenzuela was selected by the SBA as the government agency's 2012 Person of the Year, and in a business conference several months ago, she urged a group of women entrepreneurs to tap "no cost/low-cost resources that you, the taxpayer, have already paid for."
Archuletta, for his part, gained national recognition in 1981, when he found himself in front of a congressional committee arguing that his company was entitled to be the national provider of signs for the U.S. Forest Service. Archuletta was competing at the time with a large corporation that could have produced the signs for a far cheaper price. But he managed to win the lucrative contract.
While Archuletta said he has seen much of that business disappear under Obama, the government remains an integral part of his sign-making business -- seemingly at odds with the Republicans' message Tuesday night, downplaying the role of Washington in business-building.
This story has been updated to reflect Phil Archuletta's comments.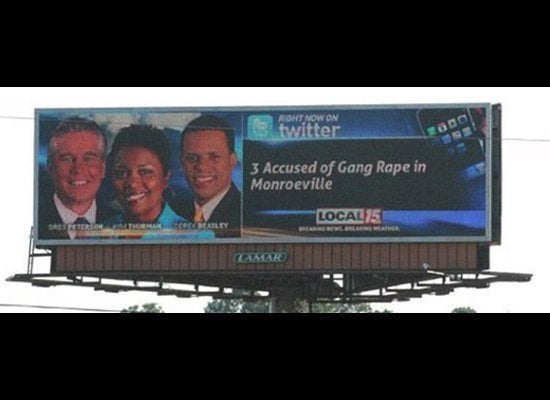 8 Billboard Fails
Related
Popular in the Community