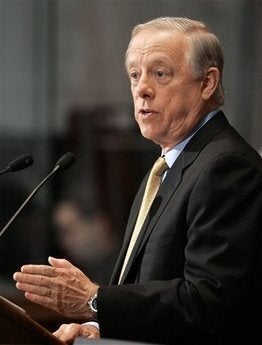 Few governors know the pitfalls of soaring health costs better than Tennessee Gov. Phil Bredesen, which helps explain why President Barack Obama is reportedly considering the Democrat for health secretary.
In 2005, Bredesen cut 170,000 adults from Tennessee's Medicaid program, called TennCare. He reduced benefits for thousands more.
Critics describe Bredesen's actions as the biggest cuts in public health insurance in the nation's history. They believe he's the wrong person to lead an effort to expand health insurance coverage, and they're throwing support behind other candidates, including Kansas Gov. Kathleen Sebelius, widely viewed as near the top of Obama's list of candidates to run the Health and Human Services Department.
However, some say Bredesen's stand shows he's willing to tackle the toughest of problems.Before the cuts were made, TennCare's growth rate was making it harder to pay for education, roads and other critical services. Tennessee led the nation in the percentage of its population on Medicaid and the percentage of its budget going to Medicaid. However, on a per-person basis, Tennessee ranked 48th in state and local tax collections.
Dennis Smith, now a senior fellow at the Heritage Foundation, was in charge of Medicaid at the federal level in 2005. He said Bredesen's actions were "necessary and appropriate."
"The program was out of control, driven by unrealistic demands that virtually no other state had to face," Smith said.
For example, almost every state has some type of system that allows it to approve the amount and types of prescription drugs that beneficiaries get. Tennessee didn't have such controls. Eligibility rules were also much broader than those of other states, allowing for enrollment of adults who would not have been eligible for Medicaid elsewhere.
"He took some very courageous steps," Smith said. "In reality he was preserving the program. Otherwise, it truly would have collapsed."
The most praise for Bredesen comes from conservatives. Obama has shown a willingness to consider their views in his appointments so far, while many of those on the left of the issue say Bredesen is the wrong choice.
"His appointment would cause a firestorm among the organizations and people who are needed to pass health care reform," said Families USA executive director Ron Pollack.
In some respects, Bredesen sounds like former HHS Secretary Mike Leavitt when describing his philosophy for reforming health care.
"I certainly believe there's an underlying right and the federal government ought to be financing a basic level of health care for everybody," Bredesen told The Associated Press last week.
Bredesen's emphasis is on the word basic. Leavitt repeatedly stressed the same emphasis. He listed as his top priority that "every American has access to basic health insurance at an affordable price."
Bredesen met with Obama for the first time in his Washington office shortly after Obama announced he would seek the Democratic nomination for president in 2007.
"He wanted to talk about health care," Bredesen said. "He asked about as penetrating a set of questions as anybody has asked me in the political world about how things worked."
Bredesen said he believes now is the time for health care reform but that it should occur through small, incremental steps.
One year after making the cuts, Bredesen swept all of Tennessee's 95 counties to win re-election. He also started a unique health insurance program called CoverTN. The program covers about 18,000 people making up to $55,000 annually.
As part of CoverTN's design, premiums are split equally between the state, the employer and the employee. The premiums are also adjusted based on a person's age, weight and tobacco usage. The average cost for individuals is about $60 a month.
Bredesen in 1980 founded a health maintenance organization called HealthAmerica Corp., which became the country's second-largest HMO before he sold it in 1986 for about $400 million.
In light of progressive calls to remove Bredesen from consideration due to his conservative views on this issue, the Tennessee governor has broken precedent for a potential cabinet appointee by publicly fighting back, the Wall Street Journal reports. From the Journal:
"Anybody who's got some real scars and experience is going to have their detractors," the governor said Monday in an interview with The Wall Street Journal. "People at the White House are smart enough to be able to assess that." And he took a swipe at his opponents, saying that "advocacy groups don't matter nearly as much as the pharmaceutical groups, the hospitals, the doctors' groups. There's a lot of very powerful interest groups that will play in this thing."

...

Gov. Bredesen says he is not concerned about the opposition, or about trouble he might have working with these groups if he were to get the job. He said that he has a "really good track record" in working with others.
Popular in the Community