This week's installment of the Huffington Post Gay Voices RaiseAChild.US "Let Love Define Family" series comes from two men raised in the Midwest who entered the journey of parenthood later than most but right on time to reap its rewards! They live with their son in Manhattan, where one of the dads serves as a Lutheran minister.
Who knew that a young Midwestern boy raised in a conservative Lutheran denomination would grow up to make international news as a pastor who announced in 2011 that he was willing to perform same-sex marriages for free for one year? It was a long journey for Phil Trzynka, but one with both professional and personal happy endings.
Phil Trzynka, 55, was raised in Fort Wayne, Indiana, in a conservative part of the Lutheran Church that does not welcome LGBT people. The denomination does not allow female pastors nor accept LGBT pastors who are openly gay or in a committed relationship. During his coming out process in the 1990s, Phil struggled to reconcile his faith and his sexual orientation. The limitations did not sit well with the young man, who felt a calling from God to serve.
Ultimately, in 2000 he left that type of Lutheranism for a more welcoming church body known as the Evangelical Lutheran Church in America (ELCA). Though the term evangelical has become almost synonymous with anti-gay propaganda in popular usage, Phil says its literal translation is "good news." The word itself does not mean hateful zealotry but simply enthusiastic or intense. That differentiation is important for Phil. While ELCA did not formally allow partnered LGBT clergy until 2009, the denomination itself was much more accepting.
The year 2000 was important in more ways than one -- it was also when Phil met his husband to be, Brett Henry, at a speed-dating event at the LGBT Center in New York City. They were the same age and the two found much in common, including their Midwestern upbringing, love of family and passion for travel.
After growing up in a Chicago suburb, Brett had found an accepting home in the gay mecca of San Francisco, where he worked as a courier for a large shipment and delivery services company for a decade until he transferred to its Manhattan division in a towering office building.
By the time the couple were ready to have children, they were already 50 and feared it was too late.
"We got more raised eyebrows from family and friends about our age than because we were a gay couple," Brett said.
Fortunately, they didn't let disapproval or fear keep them from investigating their options for family building. New York's Lutheran Social Services welcomed them with open arms.
They adopted their son Joey Henry-Trzynka, now 13, through the foster care system. Brett described the process as "extremely smooth and surprisingly quick." When Joey came to their home, he was eight years old, an age at which children are often passed over by other prospective parents. But for Phil and Henry, Joey was the perfect match. As older dads, they wanted to skip the diaper stage.
"We wanted a kid who needed a home and family, and due to our age we really didn't desire an infant or toddler," said Brett. "Our energy was not what it used to be!"
Trinity Lower East Side Lutheran, where Phil serves as pastor, has always been very supportive of the family and especially of Joey. In 2006, before the couple adopted, they had held two religious commitment ceremonies -- one in Brett's hometown of Glen Ellyn and one in Manhattan. In 2011, when same-sex marriage was made legal in New York, they held a civil marriage ceremony at Trinity Lower East Side Lutheran Parish that was attended by the congregation and most of the local Lutheran pastors. As they celebrated their own legally sanctioned wedding, Rev. Phil opened his heart to other couples, offering to waive the $500 fee for performing weddings for an entire year. Couples came from around the country to take him up on his offer and some even came from outside the country. One couple flew in from Australia to be wed and eventually decided to move to Manhattan, where they have become members of ELCA.
Raising Joey has been an amazing experience for Phil and Brett, but not without its challenges.
"You really need to be realistic about the challenges that may face you," Brett said. "Many of these kids come very dysfunctional backgrounds and may have behavioral, emotional, and/or physical challenges. Sometimes they have lived through situations no child should have to endure. And if you are partnered, I think it is essential that both of you be 100% there for each other and in agreement about starting a family and entering the process."
With the support of their friends, family, and church, Phil and Brett are seeing their son grow up into a capable and engaging young teen.
"Joey is tenacious, stubborn, aggravating, moody ball of energy -- in other words, a typical 13 year old," Brett said. "We are most proud of the progress Joey has made at school and overcoming his challenges."
Phil and Brett encourage other LGBT people to consider fostering and adopting.
"The process is far easier than you probably think and more rewarding than you can ever imagine," said Brett.
Corinne Lightweaver is the Communications Manager at RaiseAChild.US, a national organization headquartered in Hollywood, California that encourages the LGBT community to build families through fostering and adopting to serve the needs of the 400,000 children in the U.S. foster care system. RaiseAChild.US works with foster and adoption agencies that have received training in LGBT cultural competence through the Human Rights Campaign Foundation's "All Children-All Families" initiative. Since 2011, RaiseAChild.US has run media campaigns to educate prospective parents and the public, and has engaged more than 2,000 prospective parents. For information about how you can become a foster or fost/adopt parent, visit www.RaiseAChild.US and click on "Next Step to Parenthood."

Before You Go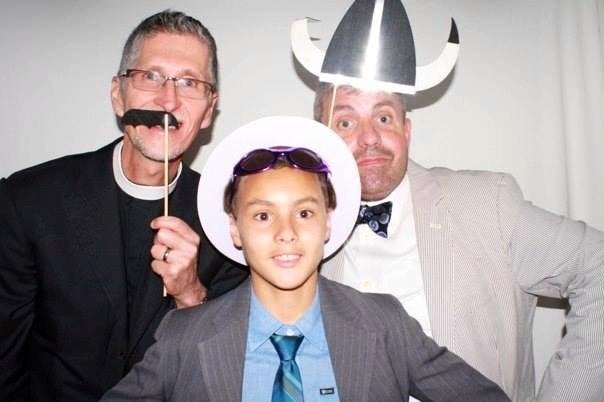 Phil and Brett
Popular in the Community