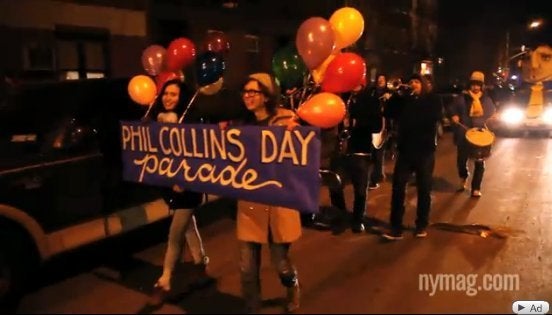 Apparently, this actually happened.
Well 250 parade marchers in Greenpoint, Brooklyn sure took the holiday seriously. Organizers of the event promised dancers, floats, even a marching band (who played "I Can't Dance"), and they all showed up as promised.
Participants even wore creepy Phil Collins cut-out masks as they sang old Genesis songs.
Even the man himself (an imitator) hopped on a float (a car) and rode down Franklin Street until police stopped the parade. But no worries, the paradegoers then took their Phil Collins drink tickets to the nearby Shayz Lounge.
The organizers of the absolutely absurd Phil Collins Day, currently in its fifth year, explained its origins to Gothamist:
It began back at [organizer Heather Kramer's] high school in Washington as a reaction to Valentine's Day, as she "watched with disgust and awkward sadness as the halls of our high school filled with red balloons and thorny roses."

Feather had just expected a few friends at the parade, but now says "it's spread to all corners of the world wide web. And as exciting as that seems, it also makes me a little nervous. I hope, that for all who come tonight, that they come to enjoy everything that Phil represents, and to have a great time. To eat pizza, to drink Phil Collins drinks, to make Phil masks, and to enjoy this homemade parade."
of the event, and check out this video of the parade by Daily Intel:
Calling all HuffPost superfans!
Sign up for membership to become a founding member and help shape HuffPost's next chapter