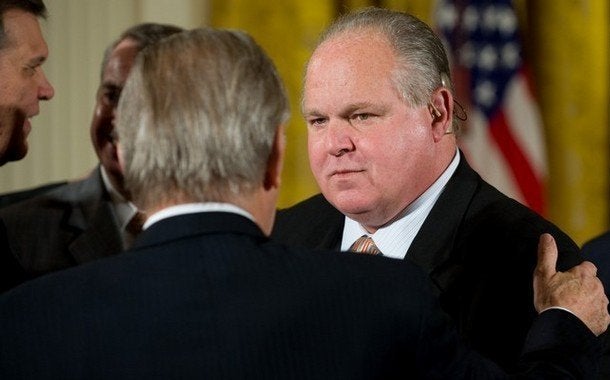 Following statements made to Politico yesterday telling Rush Limbaugh to "back off," Republican congressman Phil Gingrey now has his tail between his legs. In a groveling call to Limbaugh's conservative radio program this afternoon, Gingrey offered a humble apology and described Limbaugh as a "conservative giant" who plays an integral role in maintaining the ever-decreasing Republican base.
Rush, thank you so much. I thank you for the opportunity, of course this is not exactly the way to I wanted to come on. ... Mainly, I want to express to you and all your listeners my very sincere regret for those comments I made yesterday to Politico. ... I clearly ended up putting my foot in my mouth on some of those comments. ... I regret those stupid comments.
And here is a video of the exchange:
Gingrey's office also released a statement in an attempt to further repair the damage with his Georgia GOP backers, an excerpt of which reads:
Because of the high volume of phone calls and correspondence received by my office since the Politico article ran, I wanted to take a moment to speak directly to grassroots conservatives. Let me assure you, I am one of you. I believe I was sent to Washington to fight for and defend our traditional values of smaller government, lower taxes, a strong national defense, and the lives of the unborn. In my six years in Washington, I have led the charge on many of these issues. In fact, in 2008 The National Journal ranked me the #1 most conservative Member of the House of Representatives.
(Greg Sargent has the statement in its entirety here.)
However, not all members of Congress are as weak as Gingrey. Democratic freshman congressman Alan Grayson from Florida, for example, did not hold back in expressing his views of Limbaugh, stating, "Rush Limbaugh is a has-been hypocrite loser, who craves attention. His right-wing lunacy sounds like Mikhail Gorbachev, extolling the virtues of communism. Limbaugh actually was more lucid when he was a drug addict. If America ever did 1% of what he wanted us to do, then we'd all need pain killers."
But Limbaugh detractors don't just hail from the Democratic ranks. Another conservative talk radio personality, Bill Bennett, told CNN recently that, "the locution 'I want him to fail' is not what you say the first week the man's been inaugurated."
Limbaugh has been far and away the most vocal critic of the new administration and his efforts are having an effect on congressional Republicans, possibly gumming of the works during a critical time as the House debates the stimulus package. As Sam Stein reported for The Huffington Post today:
The remarks have created a rather complicated and touchy political dynamic on the Hill, as the GOP tries to avoid a sour-puss, oppositionist label without offending its base. And on Wednesday, Rep. Mike Pence of Indiana tried to walk that tricky line.

Asked whether he shares Rush's hope that Obama will fail, Pence, the no. 3 ranked House Republican and a leader of congressional conservatives, demurred.
It will be interesting to watch as this saga continues. With many media sources (especially MSNBC) incessantly questioning if Limbaugh is indeed the new de facto leader of the GOP, there very well could be a self-fulfilling prophecy in the works.