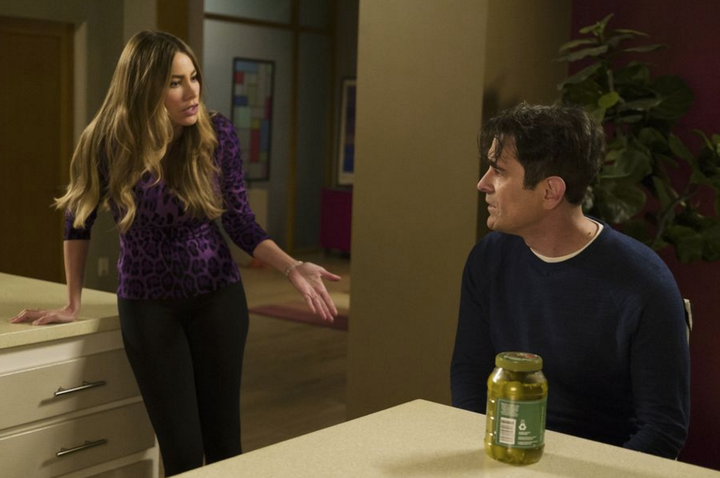 Non-traditional relationships are standard fare on "Modern Family," a show that introduced network television to a May-December romance that blended three families across generational lines ― one including two fathers. Still, while the show's writers weave jokes out of the fabric of those relationships, they are careful to be sure none of their non-traditional pairings are actually cringeworthy. That is, except for one: Phil Dunphy (Ty Burrell) and Gloria Pritchett (Sofia Vergara). 
Phil's step-mother-in-law, Gloria, and Phil's wife, Claire (Julie Bowen), are approximately the same age. And he's has been noticeably into to Gloria throughout the show, revealing his attraction in the manner of a teenager poisoned by hormones: through awkward social blunders. 
"Phil had a hard time even just carrying on a conversation because he was so beguiled by her beauty," Burrell told The Huffington Post, comparing his character to "a fish seeing something shiny." Although Gloria appears oblivious, her much-older husband, Jay (Ed O'Neill), is not so naive. Still, he seems to operate under the assumption that his goofy son-in-law will never cross any inappropriate lines.
It is clear that "Modern Family" ― which sums up each episode with a relevant and cheesy morality lesson ― would never go that far, either. But it is comfortable dangling its toes over the edge in scenes like the one at the end of Season 1, when Gloria paralyzes Phil with a smooch to call off harassment from a stadium Kiss Cam, or when Phil pretends Gloria is his wife in front of an old nemesis. But more recently, the pair's interactions have mellowed, a change Burrell noted when HuffPost asked him to put the show's most uncomfortable relationship into words.
"This doesn't really happen in sitcoms very much, because most of the time you don't really want the characters to grow," Burrell said. "If the characters grow, you lose the whole situation that makes them funny in the first place." 
Phil and Gloria, however, have grown quite a bit. A recent episode presents Gloria and Phil as close platonic friends as she offers him encouragement in his career, and he is undeniably more able to conduct himself normally in her presence.
"Over the years, they've become sort of pals in a way," Burrell said. 
Surely another series might have kept hammering laughs out of an awkward Phil-Gloria dynamic. Yet as one based on the age-old motif that some women are so extraordinarily alluring as to drive men onto rocky shorelines, or otherwise incapacitate them, it would have felt increasingly stale. Instead, "Modern Family" offers an alternate reality, where men and women can learn to be friends out of mutual respect for one another, as another nice ― yet perhaps still cheesy ― lesson in relationships.
Clarification: A previous version of this story indicated "Modern Family" runs on basic cable. While it is syndicated on cable, it initially airs on ABC.
Calling all HuffPost superfans!
Sign up for membership to become a founding member and help shape HuffPost's next chapter
BEFORE YOU GO
PHOTO GALLERY
7 True Crime Docs To Watch On Netflix