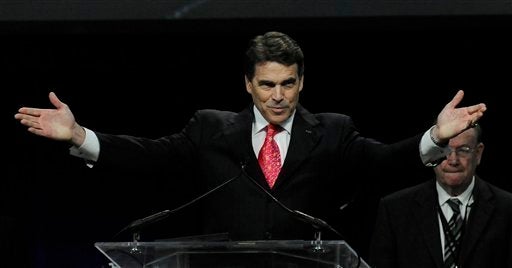 Former senator and current banker Phil Gramm of Texas -- well-connected to big donors but controversial for his role in preventing tighter regulation of Wall Street -- told The Huffington Post yesterday that he is endorsing his former student and political protege, Texas Gov. Rick Perry.
The endorsement is not a surprise, but it is a mixed blessing.
"I'm for Rick and I will do what I can to help," Gramm said in an interview in Detroit. "He has been an effective governor. He is a determined guy from a small town who knows how to get things done."
Elected three times to the U.S. Senate and a presidential contender in 1996 (he tied with Sen. Bob Dole in Iowa), the former Texas A&M economics professor's visibility has faded in the raucous arena of Texas politics.
Gramm remains a potent behind the scenes force, however, connected to Wall Street and big donors through his nearly decade-long role as a banker and dealmaker with UBS bank. He also has a history of expertise in budget matters as a budget-cutter before being a budget-cutter was cool in the GOP.
Longtime friends and supporters of Gramm are expected to line up to support Perry -- many of them in an independent super PAC. Legally they will have to remain independent from the Perry campaign, and Gramm will be positioned between the PAC and the candidate. If he talks with one, though, he can't talk with the other.
Gramm's financial network is crucial to Perry, who will have access to Texas money, but, for the most part, not the money that pledged allegiance to George W. Bush and the larger Bush family network.
There is no love lost between the Bush and Perry camps. "Bush's Brain," consultant Karl Rove, essentially ran the Texas GOP during Bush's time as governor, and the Bush team found Perry -- a self-made, small-town character and former Democrat who ran and won the lieutenant governorship with Gramm's backing and grassroots effort -- to be an annoyance at best and embarrassment at worst.
Gramm's public endorsement comes with some political baggage. Gramm's efforts in the late 1990s to deregulate banking and prevent the regulation of derivatives is widely seen as having helped cause the economic bubble of the decade -- and subsequent catastrophic meltdown of 2008. In the midst of that meltdown, in his capacity as economic advisor to Sen. John McCain's campaign, Gramm infamously dismissed the looming collapse as a "mental recession." That remark alone, defended to the end, help seal McCain's reputation as a man out of touch with Main Street realities.
Gramm and Perry are close friends, going back to the days when Perry was a student of Gramm's at A&M. A mediocre student, Perry nevertheless impressed Gramm with his small-town grit and determination to be a pilot. "No one ever gave Rick anything, and he worked hard," he said. Perry was an Eagle Scout and finally fulfilled his dream in the Air Force. The implicit comparison to George W. was clear.
After Perry became governor, Gramm and his bank pushed a controversial proposal to allow the company to take out insurance polices on teachers and other workers, even though the workers themselves would not benefit. The plan, nicknamed the "dead peasant's insurance," never became law.
Ironically, Perry wasn't really Gramm's first choice. His ideal candidate is the GOP's "budget warrior," Rep. Paul Ryan (R-Wis.). But Ryan isn't running -- and his old friend Perry is.
Calling all HuffPost superfans!
Sign up for membership to become a founding member and help shape HuffPost's next chapter