If "progressive" means "we always want to do things bigger and better, to change, to be all things that we could be? Absolutely [it is an accurate description]," Griffin said. He stressed, however, that MSNBC's form of progressivism was not necessarily left-leaning.
"Honestly, I think we're bigger than that," he said. "I think there's a bigger sensibility. I think what we do is we look at all ideas. The whole idea is don't be afraid of change. The course of our history has always been to evolve and to make things better, and I think that's our focus."
Photos of the new ad campaign: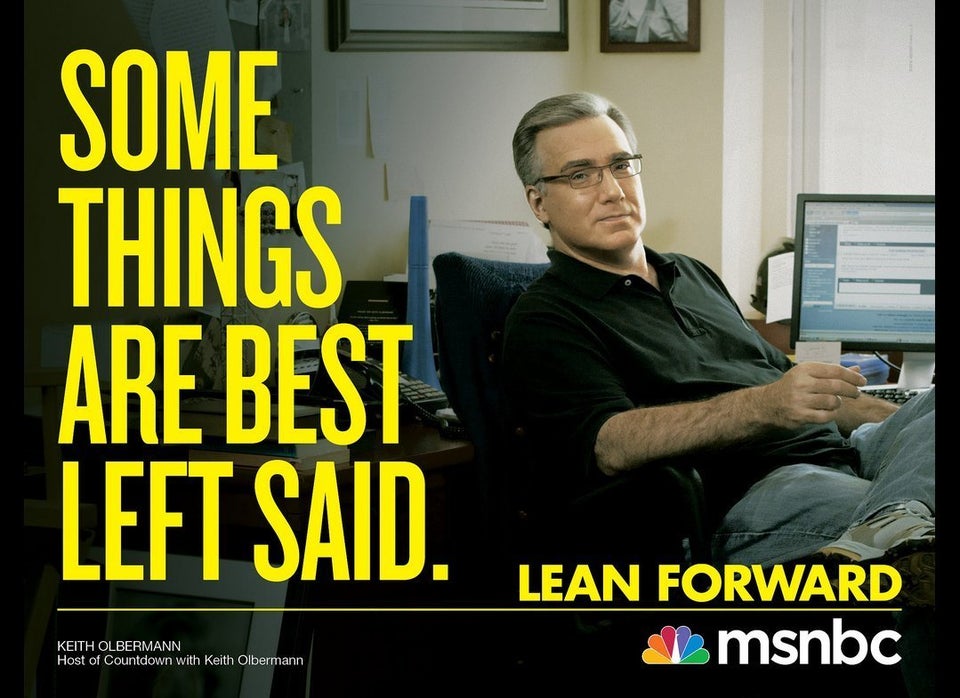 MSNBC Ads
Sharon Otterman, MSNBC's chief marketing director, added that the network was trying to define a "new category of thinking."
The initial idea for the campaign was launched a year ago, when Griffin decided to hire Otterman to further market the network.
"We decided that we needed our own people to help us define who we are in the consumer's eye," he said.
The first thing Otterman did was conduct a brand-awareness study. She found that, even though MSNBC was beating CNN in the ratings, nearly two times as many people were aware of CNN's existence as MSNBC's. Griffin said that the discrepancy was due to a variety of factors, including the fact that people were confusing MSNBC with its many NBC sister stations, and, more importantly, that the network had not tried to define itself in the same way as CNN or Fox News had. Everyone knows that CNN is the "Most Trusted Name In News," or that Fox News calls itself "Fair and Balanced," but what is MSNBC?
"There were clearly ways to grow our audience in ways that we hadn't," Griffin said.
Otterman called the challenge an easy one to solve.
"We have a great product, and now we just have to make people aware of it," she said.
The network is doing that with a two-year flurry of ads, including eight separate initial spots. Two are grander, high-concept mission statements of a sort. The six others feature MSNBC's biggest on-air personalities preparing for their shows or talking about their editorial ambitions. All eight were directed by Spike Lee.
Notably, MSNBC's entire primetime lineup is featured in the ads. In August, Ed Schultz was reported to have exploded with anger when he found that he was not going to be involved in a series of promos for the channel's lineup. Griffin said that, this time, everyone was on board.
"I wouldn't read too much into what happened," he said. "People can be emotional and that happens in every business...this is a two year campaign and it's going to touch everyone. It is who we are...and we want all of our people to do it."
Beyond the television spots, MSNBC is rolling out ads in train stations, bus shelters, newspapers and websites. The two-year commitment is a signal of the channel's ambitions.
"We have a lot to say, and it takes time to get that message out," Otterman said.
Of course, the main reason that MSNBC has been able to double down on its programming identity is because the channel's ratings have been solid. Asked if the campaign would change if the ratings began to decline, Griffin rejected the premise of the question.
"For the last few years, we've gone in one direction," he said. "Everything's been positive...we've never been this strong and we're going to continue to evolve here. If you don't evolve, you die."
Related
Popular in the Community