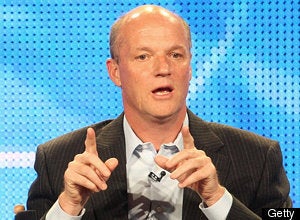 Griffin sent a memo, obtained by the Huffington Post, to network talent and executive producers clamping down on infighting within the network.
"We have many strong personalities with differing, passionate opinions, but it is important to remember that we are all on the same team," Griffin said in the memo. "I want to reiterate my long-standing policy: We do not publicly criticize our colleagues. This kind of behavior is unprofessional and will not be tolerated."
Earlier this week, "Morning Joe" host Joe Scarborough blasted Keith Olbermann on Twitter for his comments that Scott Brown is "an irresponsible, homophobic, racist, reactionary, ex-nude model, tea-bagging supporter of violence against women and against politicians with whom he disagrees."
"How reckless and how sad," Scarborough said on Twitter, comparing Olbermann to Glenn Beck.
Griffin said in an interview that "this week's issue came right up to the line.
"That's why I wrote this memo," he said. "It was important to reiterate the policy."
"Let me be clear," Griffin said in Friday's memo. "I encourage you to keep doing what you do best. Give the viewers your perspective and a vigorous debate on the issues they care about. But do not turn substantive differences into personal ones."
From: Griffin, Phil (NBC Universal)

Sent: Friday, January 22, 2010 3:02 PM

MSNBC is THE place for viewers to get the best political analysis and opinion in today's vast marketplace of ideas. We don't tell our hosts what to say. We don't have talking points. We encourage our talent to voice their opinions strongly and smartly, always rooted in fact. All of this has brought us great success, culminating in last year's victory over CNN.

Hosts strongly voicing their OWN opinions can no-doubt lead to spirited, substantive disagreements. This debate is encouraged. What we're doing at MSNBC is something our competition is not. And it is difficult. We have many strong personalities with differing, passionate opinions, but it is important to remember that we are all on the same team. I want to reiterate my long-standing policy: We do not publicly criticize our colleagues. This kind of behavior is unprofessional and will not be tolerated.

Let me be clear: I encourage you to keep doing what you do best. Give the viewers your perspective and a vigorous debate on the issues they care about. But do not turn substantive differences into personal ones.

Phil
Popular in the Community