America's only US-born Formula One World Champion of Driving, Phil Hill, died August 28th in a Salinas, CA, hospital as a result of respiratory problems complicated by Parkinson's disease. He was 81.
Hill passed on while making one of his many globe-trotting annual pilgrimages from his home of
more than 70 years in Santa Monica, CA, his final one to the vintage sports car races at Laguna Seca Raceway and the Pebble Beach Concours d'Elegance, the world's greatest and most
spectacular collector car show, both on California's Monterey Peninsula. Hill occasionally drove
in the vintage car races there and was a much-respected Rolls-Royce and Ferrari judge at the
Concours for decades.
(A recent shot, by longtime Road & Track contributor John Lamm, of Phil Hill in his natural habitat - The driving position in a great, old car)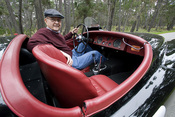 Hill won the Formula One title for Ferrari in 1961. Other highlights in his career include winning the 24 Hours of Le Mans three times, the 12 Hours of Sebring three times, the Argentine 1000 Km three times, the Grand Prix of Italy twice and the Belgian Grand Prix. Hill's 1961 season stands as a monument to racing victories of the kind, for many reasons, we will not see again.
(1961 and the Dutch Grand Prix; Hill drives his Ferrari to victory, in a photo by Bernard Cahier)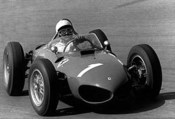 Hill was also a longtime columnist for Road & Track magazine. Two other notable racing figures from Europe, Paul Frere and Innes Ireland, both of whom pre-deceased Hill, also wrote for that same magazine, and through their work, many Americans had their first taste of F1 Grand Prix racing and other motoring events "on the continent." They learned they were not alone in their love of motorsports, and there was more to life than the Indy 500 and NASCAR.
Hill was inducted into the International Motorsports Hall of Fame in 1991, and the Motorsports Hall of Fame of America in Novi, MI, as the sole sports cars driver in the inaugural 1989 class.
(Two American racing legends, Jim Hall, creator of the Chaparral race car on the left, and Phil Hill catch a break between driving stints in a 1961 endurance race)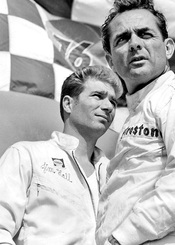 Hill was born in Miami, FL. His family soon moved to Santa Monica, CA, where his father served as postmaster. Hill still lived in the same house in which he grew up, and where he first drove a car. He began racing cars at an early age, going to England as a Jaguar trainee in 1949 and signing with Enzo Ferrari's team in 1956. He made his debut in the French Grand Prix at Rheims France in 1958, driving a Maserati.
He raced throughout Europe, the US and South America in an era when Formula 1 Grand Prix racing was made-up of wealthy men and women, whose fortunes weren't lost or perhaps even grew during WWII, spending their own old money on the sport. They also hired drivers and got whatever help they could from engineers from some of the car-makers. Some of the European car-makers, particularly Jaguar, Ferrari and Maserati paid their drivers. Large sponsorships of any kind were almost unheard-of; today, the sport could not exist without them.
(Hill winning the 1961 24 Hours of LeMans in a 4.0 liter V12 Ferrari)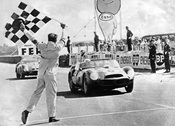 Cars owned by Hill twice won the most-coveted prize in car collecting, the Pebble Beach Concours d'Elegance Best in Show. In 1955, it was his 1931 Pierce-Arrow 41 LeBaron Convertible Town Cabriolet, and in 1977 it was a 1927 Packard 343 Murphy Convertible Sedan entered by Hill and his wife, Alma. Many car fanciers around the world with much more money, more employees and access to more great cars than Hill could possibly have purchased have paid many millions of dollars to win just one Best in Show; winning two is an outrageous, even outlandish, accomplishment.
(1975 - Hill with wife Alma in the Laguna Seca vintage sports car races; the 1937 Alfa-Romeo they're piloting is the very same car which Hill drove to a win in the 1951 Del Monte Trophy Race, a big event on the Monterey Peninsula which served as precursor to today's major automotive events there)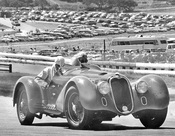 Hill and Vaughn, which Hill co-owned, was one of the world's best and best-known Rolls-Royce restoration firms. Originally located in Santa Monica, the business was sold over a decade ago, but never achieved the kind of success, or brought in the kind of customers, which favored the shop when Hill's name was on the door.
(Hill, exhausted but victorious, wins the 1961 Grand Prix at Monza, Italy)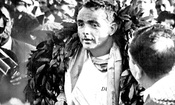 Trivia lovers' alert: Hill was not America's first world champion in motorsports. That honor goes to Jack Milne, a late Southern California motorcycle dealer (Milne Brothers in Pasadena), who won the world champion of speedway motorcycle racing in 1937. And, yes, American Mario Andretti was F1 world champion in 1978, driving for the UK's Lotus team. However, Andretti was born in Italy and moved to the US at age 12.
Hill's son, Derek, ended his own burgeoning racing career to help his father as his Parkinson's Disease advanced.
Hill is survived by his wife of 37 years, Alma Baran Hill, a daughter, Vanessa Hill Rogers of Phoenix, AZ, his son Derek Hill, of Culver City, CA; also a sister, Helen Kellogg, of Essex, N.Y.; a stepdaughter, Jennifer Svendsen Delaney, of Niwot, Colo., and four grandchildren.
Support HuffPost
A No-B.S. Guide To Life
Related
Popular in the Community