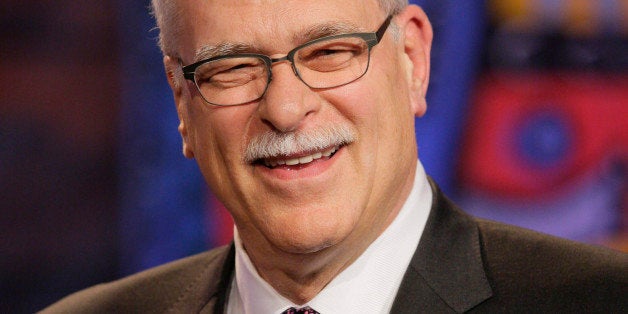 At 21 years old, I was lucky to find a mentor, that person whose unique wisdom helped guide my life in productive, powerful and positive ways. My mentor said to me early in my professional career:
Deb, if you want to get ahead in life, find someone who is creating the success you want, then study what they're doing so closely you feel like you're breathing their air.
One of the people I have most mirrored my business-coaching career after is iconic basketball coach, Phil Jackson, aka The Zen Master. Phil Jackson is widely considered one of the greatest coaches in the history of the National Basketball Association. Jackson has 11 NBA titles as well as the highest winning percentage of any NBA coach. If you're a business leader with big goals and you haven't read Jackson's bestselling books, I strongly suggest you do. They are: Take It All, Maverick, Sacred Hoops, More Than A Game, The Last Season, Journey to the Ring and, most recently, Eleven Rings.
There are three benchmark strategies to Jackson's unprecedented success. He employed them with both the Bulls and the Lakers. All three are applicable to business. Any company that replicates them will enjoy their own version of best-in-class play and "11 gold rings."
Global business leaders, let's steal the winning ball from Phil!
Strategy #1: The Rogerian Methodology
In college, Phil Jackson came across the work of acclaimed and cutting-edge psychologist Carl Rogers. Rogers is a founder of the "humanistic approach" to psychology. His person-centered method of working with people even garnered him a nomination for the Nobel Peace Prize.
In essence, Rogers believed that the only requirement of a great psychologist was to exhibit what he called, "a positive regard" for the client. In other words, he thought that if we extended caring and respect to other people, creating a nurturing and safe environment, that atmosphere would give them the support needed to successfully resolve their challenges and reach high levels of self-actualization, or what we call in business, "peak performance."
Utilizing Rogerian principles, Phil Jackson spent an enormous amount of time creating a sacred, safe, supportive space for his players during training, on the court, off the court and while they traveled. The few times in his career he reverted to any form of shame, blame or punishment towards his team, he reports that it didn't work, encouraging Jackson always to return to his belief in the power of authentic affection. As Vince Lombardi is famous for saying: "I don't have to like all my players. I do have to love them."
History has proven that Jackson's regard for Carl Rogers commitment to creating safe, supportive and loving cultures was right. The happier your team, the better they play, the more amazing the results.

Success Strategy #2: Abraham Maslow's Methodology
Along with discovering the teachings of Carl Rogers, Phil Jackson became enamored with the work of equally renowned psychologist, Abraham Maslow. Abraham Maslow, like Carl Rogers, was one of the major contributors to the "humanistic approach" in psychology too. Maslow believed that human beings have a hierarchy of needs that must be fulfilled for them to reach "self-actualization."
Our basic (and universal) human needs are:
Physical or Biological Needs -- food, air, drink, shelter, warmth, sleep
Security or Safety Needs -- order, stability, protection
Relationship or Social Needs -- affection, relationships, teamwork
Self-Esteem Needs -- achievement, status, responsibility, reputation
Self-Actualization -- personal growth, fulfillment
I define "self-actualization" in business as being able to access the highest levels of cognitive and emotional intelligence in a consistent way. When we are thinking and acting from this state, our ability to innovate and solve complex problems quickly is superior. Needless to say, in our new global economy, the return on investment for self-actualized leaders is wildly profitable.
Jackson writes: "I found that Maslow's approach of balancing physical, psychological and spiritual needs provided me with a foundation for developing a new way of motivating young men."
History has proven that with the success of the Bulls and the Lakers that Jackson's belief in Abraham Maslow's hierarchy of needs was right.

Success Strategy #3: The Triangle Offense Methodology
The Triangle Offense, which Jackson used to win six of his 11 rings, was a perfect extension of his belief in Carl Rogers and Abraham Maslow's psychology of success. For the Triangle Offense to work, the five-man team has to act as one connected entity, constantly passing the ball amongst each other to win. This strategy brilliantly breaks down the more siloed, superstar, "I" centric approach to goal attainment by replacing it with the power of the "we".
In business, when we align teams to work together, and reward them based on collective success, a winning interdependence is created that mirrors Jackson's Triangle Offense.
History has proven that Jackson's belief that the "we" outperforms the "I" is true.
Phil Jackson's success map can be easily adopted by any business organization.
The only requirement is that your C'Suite has a Master Culture Coach on board to put these principles in play and then run them day and night until profitability is achieved.
Rogers + Maslow + Triangle Offense = 11 Gold Rings.