Armed with an inflatable pig and a suit and a tie, Phil Letten has been traveling around the country, protesting Walmart.
The Mercy for Animals activist told Reddit users in a Sunday Ask Me Anything thread that looking professional is one of the keys to his group's 90-plus city tour, which aims to demonstrate against the way Walmart suppliers treat their pigs.
"We dress up because people take you more seriously when you are dressed up," Letten said. "And since we feel this is a serious issue I wear a suit and tie everyday."
Danit Marquardt, a Walmart spokeswoman, said the company holds "suppliers to the highest standards and does not tolerate animal mistreatment."
Letten's group, the non-profit Mercy for Animals, has been protesting a variety of popular brands over their animal rights practices. The group's 2011 undercover investigation into a Butterball North Carolina facility resulted in several employees being charged with felony and misdemeanor animal cruelty.
The group launched its investigation into a major pork supplier that provides products to a number of popular brands including Walmart's in December 2011 and ultimately released a video in July, narrated by former "The Price Is Right" Host Bob Barker, highlighting the pigs' terrible conditions. Many were housed in gestation crates -- or pens too small for pregnant pigs to turn around in. Costco announced in July that it would phase out the use of the gestation crates as Mercy for Animals was preparing to release the video.
Kroger, Safeway and other major retailers announced earlier in 2012 that they would ask suppliers to stop using the pens.
"All we are asking them to do is stop confining pregnant pigs in crates so small they can't even turn around," Letten said in the AMA. "The longer Walmart waits on this issue, the worse they look."
Marquardt, the Walmart spokeswoman, said the company is currently "listening closely to points of view from farmers, food manufactures, animal rights organizations, customers and others," on the issue.
"We are currently engaged with pork suppliers, food safety experts and other organizations to work towards an industry-wide model that is not only respectful of farmers and animals, but also meets our customers' expectations for quality and animal safety," she said.
Mercy For Animals isn't the only group targeting Walmart's animal rights record. A recent report from the Business Benchmark on Farm Animal Welfare found Walmart is among the worst companies in terms of its animal rights practices. In addition, the report claims animal rights isn't on Walmart's business agenda.
This post has been updated to include comment from Walmart.
Check out a photo of Mercy For Animals' inflatable pig: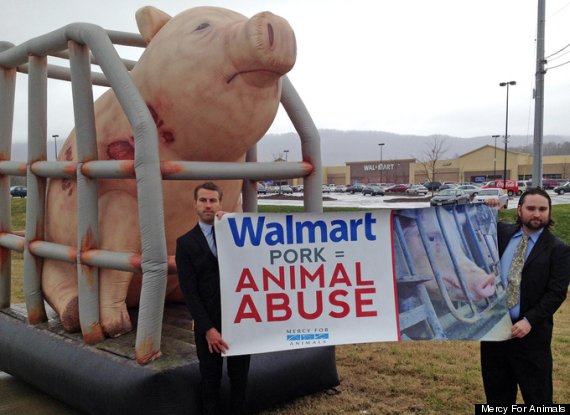 REAL LIFE. REAL NEWS. REAL VOICES.
Help us tell more of the stories that matter from voices that too often remain unheard.
BEFORE YOU GO
PHOTO GALLERY
12 Items Walmart Finds More Dangerous Than Guns