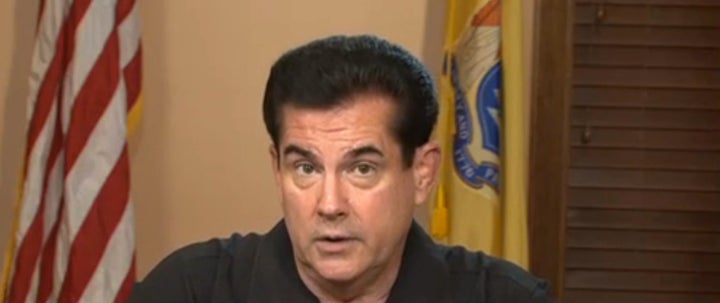 A New Jersey Republican state Senate candidate apologized for a tweet offering a sex tip to women Thursday, after defending it to the Philadelphia Inquirer editorial board.
"Women, you increase your odds of keeping your men by being faithful, a lady in the living room and a whore in the bedroom," wrote Phil Mitsch on Sept. 2. Mitsch has over 44,000 followers and calls himself on his Twitter profile, "America's Leading Economic, Real Estate, Lending and Motivational Coach." He often tweets "tips" to his followers. A recent "tip" said: "Rumor Tip - rumors are carried by haters, spread by fools and accepted by idiots !!!!!!!!!!!!!!!!!"
He tweeted Thursday, " I did not defend "my" tweet but rather Jerry Hall's, Mick Jagger's ex-wife, "quote" that I paraphrased. They were her words !!!" Jerry Hall famously quoted her mother as saying, "to keep a man, you must be a maid in the living room, a cook in the kitchen and a whore in the bedroom."
Mitsch's first instinct was to defend the tweet. "That's a great tip," he said to the Philadelphia Inquirer editorial board Wednesday. "That shows the utmost respect for women. . . . What I was trying to say to men was, 'Men, look, if you got to go out and play around and you can't be honest with a woman and respect her, then you're better off just doing pay, play, and get the 'F' away.'"
Thursday morning, in an interview with the Inquirer, he still defended the tweet: "I am definitely not apologizing for those two tweets at all...They were relationship tips. 'Stud in the bedroom' and 'whore in the bedroom,' those are timeworn adages."
However, he apologized Thursday evening in a statement: "I would like to sincerely apologize for any offense I may have caused anyone, particularly women, as a result of a Twitter post that has recently been reported."
Mitsch faces Democratic state Sen. James Beach November 8. Democrats outnumber Republicans by a 2-1 margin in his district, adds the Inquirer.
On his website, Mitsch calls himself "America's leading financial crisis, real estate and mortgage expert, and the real estate industry's all time top producing residential realtor."

Calling all HuffPost superfans!
Sign up for membership to become a founding member and help shape HuffPost's next chapter