(RNS) The pastor to "Duck Dynasty" patriarch Phil Robertson rushed to his defense Thursday (Dec. 19) after the reality TV star came under heavy criticism for his graphic comments about homosexuality and the Bible.
Robertson, who leads a clan that revels in Southern Christian stereotypes, was suspended by the A&E Network after an interview with GQ magazine was published. Robertson, 67, was asked: "What, in your mind, is sinful?"
"Start with homosexual behavior and just morph out from there," Robertson said. "Bestiality, sleeping around with this woman and that woman and that woman and those men."
"Duck Dynasty" follows members of the extended Robertson clan, the family that runs the Duck Commander hunting supply company in Louisiana. The GQ interviewer says Robertson is free to say whatever he wants out in the wild, "maybe a little too free."
"It seems like, to me, a vagina — as a man — would be more desirable than a man's anus. That's just me. I'm just thinking: There's more there! She's got more to offer," Robertson said in the interview. "I mean, come on, dudes! You know what I'm saying? But hey, sin: It's not logical, my man. It's just not logical."
The church that the Robertsons attend and where Phil Robertson is an elder, White's Ferry Road Church of Christ in West Monroe, La., has received hundreds of phone calls from fans across the country, said Mike Kellett, the senior pastor.
"It seems to me people are tolerant of views except Christianity," Kellett said. "I don't have anything to say about the wording in it. I would express things differently, but that's Phil."
The Robertsons are part of Churches of Christ, a conservative group of 13,000 U.S. congregations that says that "God remains consistent in His condemnation of homosexuality as He does for all other sins."
Members of Churches of Christ generally believe that God reserves sex for a marriage between one man and one woman.
A&E is free to do what it wants with the show, Kellett said.
"It's a free country," Kellett said. "We're not a protest kind of people. We don't go out in front of people's office with signs."
Southern Baptist leaders Russell Moore and Al Mohler, as well as advocacy groups such as Alliance Defending Freedom and the Family Research Council, also came to Robertson's defense, saying he should not be suspended for voicing his views.
"Free speech is endangered species; those 'intolerants' hatin' & taking on Duck Dynasty patriarch for voicing personal opinion take on us all," tweeted former vice presidential candidate Sarah Palin.
Robertson skipped Barbara Walters' "Most Fascinating" interview on Wednesday, with his wife saying he was out hunting.
Some Christians said the Robertson situation showed the need for caution in both tone and substance when speaking about sexuality.
"Just because someone quotes 1 Corinthians 6:9-11 and is opposed to same-sex marriage doesn't mean that they're speaking up for a theologically informed, humane, pastorally sensitive view of what it means to be gay," Wesley Hill, who describes himself as a celibate gay Christian, wrote for the journal First Things.
Brandon Ambrosino, an openly gay Christian who writes about religion and sexuality, noted that Robertson and Pope Francis probably share the same views on homosexuality, but there's a noticeable difference in tone.
"Pope Francis has positions on sexuality but when he does bring them out, he does it in the most accepting way possible," Ambrosino said, referring to the pope's famous remark about "Who am I to judge?" on the issue of homosexuality.
However, Ambrosino said, Robertson should not have been suspended.
"Whether or not I think his understanding of desire is primitive and brute, there are lot of people in America who hold his opinion," Ambrosino said. "Dismissing an idea is not engaging a debate; that is not even entering into one."
Related
Before You Go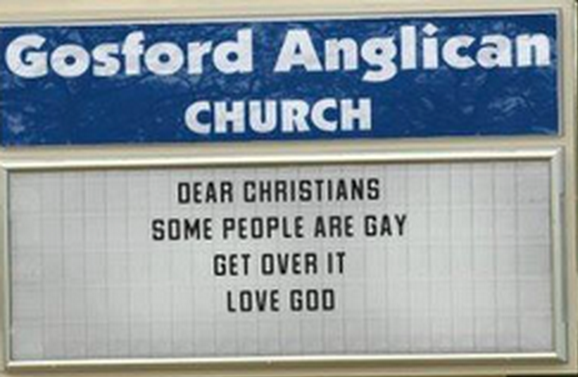 Controversial Church Signs
Popular in the Community