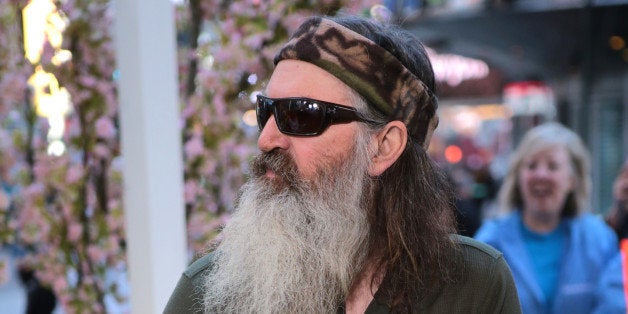 "Duck Dynasty" patriarch Phil Robertson is coming under fire once again, having gone on the defensive about an extreme "fire and brimstone" anti-gay sermon that he delivered in 2010.
During a Bible study group on Sunday, Dec. 22, Robertson reportedly told his fellow attendees that he "will not give or back off from my path ... We are a bunch of rednecks from Louisiana, but I am not uneducated, I have a degree from Louisiana Tech. But this week I have been called an ignoramus."
As US Magazine and other outlets are reporting, Robertson continued his message by reiterating the fact that he has both held and been vocal about these beliefs for quite some time.
"This week I have been asked, 'Is this the first time you have brought up sin?'" he continued, as reported by the Daily Mail. "I said, 'Are you kidding? I have been traveling to and fro spreading this message.' Then he said, 'Well do you invite yourself to go and get your Bible and tell people what you are now sharing with us?' I said, 'No they are inviting me.'"
Robertson first landed himself in hot water last week when GQ released a profile on the reality star in which he made anti-gay remarks and compared homosexuality to bestiality. The 2010 sermon in question quickly surfaced in which Robertson states that gay people "will dishonor their bodies with one another, degrade each other. Uh, is that going on in the United States of America? Look around. God's not there... And boy is there some immorality going on around here. Does it get worse?"
REAL LIFE. REAL NEWS. REAL VOICES.
Help us tell more of the stories that matter from voices that too often remain unheard.
BEFORE YOU GO
PHOTO GALLERY
Anti-Gay Celebrity Statements