As a fan of the A&E show Duck Dynasty, as a fellow Louisianan, and someone who is gay, I must say that Phil Robertson's anti-gay comments made to GQ magazine, are hurtful, but guys, it's his opinion and it's to be respected. We have to embrace and tolerate people who are not like us, share life with them and learn to love them, even if we don't believe the same things they do. It's our duty to try and understand them. I think there is an even bigger lesson to be learned... You listening Phil?
In an interview with GQ magazine, patriarch of the family and pastor in their community, Phil Robertson said that "It seems to me, a vagina -- as a man -- would be more desirable than a man's anus," he explained. "That's just me. I'm just thinking, 'There's more there! She's got more to offer.' I mean, come on, dudes! You know what I'm saying? But hey, sin: It's not logical, my man. It's just not logical."
This is my open letter to him.
There are a lot of things that are not logical in life, yet they are OK, acceptable and sometimes even correct!
Take for example believing in God. Many people (not me) would say that is not logical. I hear people say "how can you believe in a power that is unseen, and at times, science proves its hand in creation more than a higher power's role played." It's not logical by any means, but yet as we like to say, we "walk by faith and not by sight".
What's also not logical, and even somewhat hypocritical is how you later quoted a phrase from the Bible found in the book of Corinthians "Don't be deceived. Neither the adulterers, the idolaters, the male prostitutes, the homosexual offenders, the greedy, the drunkards, the slanderers, the swindlers -- they won't inherit the kingdom of God," you warned. "Don't deceive yourself. It's not right."
I hope that the same looking glass that you are looking through, is applied to everyone (even your own son's lives included). I can say for a fact that at a recent LSU football game at Tiger Stadium (in Baton Rouge, Louisiana) I stood in the suites with a few of your sons, who had one too many drinks while cheering on the tigers. (And no the drink was not from Uncle Si's tea jug... they were alcohol). I even had a drink of my own, not judging them, but celebrating the same thing they were, and LSU victory over Texas A&M.
But wait... Corinthians said something about homosexual offenders, drunkards, greedy, slanderers, and so on. Whoops, sounds like I myself, and a few of your family members may have fallen into the same verse as not being able to inherit the kingdom of god. Whoops....
Spiderman once said "With great power comes great responsibility." You have always taken the responsibility to educate and preach with the power the show has brought you, I just hope and pray that the message being preached now is one of inclusiveness and true brotherly love, no matter what category a verse in Corinthians may classify us as.
Phil, I am a huge fan of the show, and the comments you made (though, I do not agree) are NOT going to keep me from watching the show. (Unless A&E pulls the show, which I think would be a huge mistake) I think the lesson to be learned here is how we all can co-exist in a place and demonstrate a characteristic that even you have preached about on Sunday mornings... Forgiveness.
Dude, I forgive you for making the comments, I don't even think you need to ask for forgiveness though. I am glad you stated and stand behind your opinion (though again I do not agree with it) against homosexuals. This is your opinion and you own it.
Some people will call for your show to be yanked, or you to be written out of the show, I don't think that is the appropriate response and answer. Rather I think staying, shows an even greater idea. The idea of tolerance and the act of loving people for who they are, not what they are.
Thank you for opening up a dialogue, an opportunity for people of your generation, as you self-admitted, have hit rock bottom with sex, drugs, alcohol, and rock and roll, to be able to learn to love a bit deeper, and understand that people are all the same. We want to be loved, and we are meant to love one another.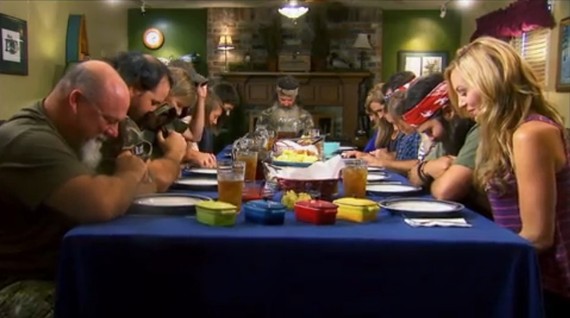 I have always been a fan of how each episode is ended on your show with the entire family sitting down bowing their heads and blessing the meal before eating. (I still bow my head when watching the show when y'all do, my family says I'm silly) Well, I'm not sure who will die and get to heaven first, but if it's me, I can promise I will save you a seat right next to me: they gay Christian who will be waiting on The Duck Commander to arrive and take your spot right next to me, because we both are welcome there.
REAL LIFE. REAL NEWS. REAL VOICES.
Help us tell more of the stories that matter from voices that too often remain unheard.