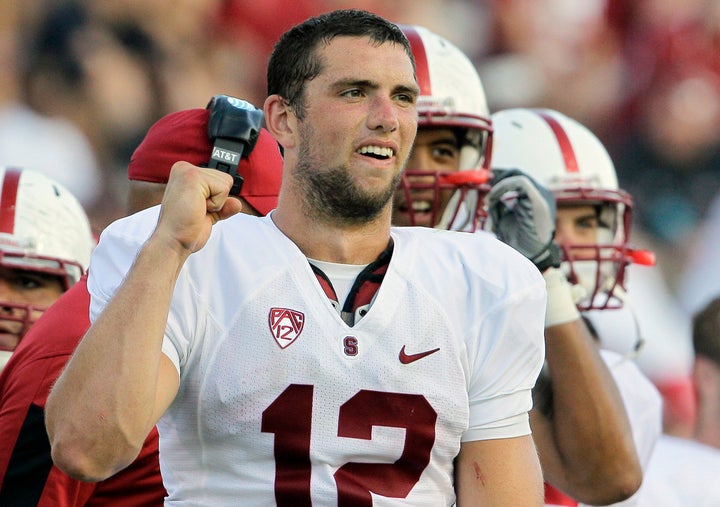 The inevitability of Andrew Luck's ascendance to NFL superstardom is nearly as accepted at this point as the downward pull of gravity. Not only do most football analysts believe that the Stanford quarterback will undoubtedly be the first one called up to the stage to shake commissioner Roger Goodell's hand at the 2012 NFL draft, but they seem to think he's got a terrific chance to be a franchise cornerstone.
Fans around the country certainly agree, especially the ones who root for the three teams that are still winless eight weeks into the season. The "Suck for Luck" campaign has taken on a life of its own, sparking discussion about teams tanking games in order to get him, that is, if he declares for the draft.
In an interview on Tuesday with Adam Schein and Rich Gannon of SiriusXM NFL Radio, Simms said the hype surrounding Luck "is a little too much" , becoming one of the few high-profile analysts to express doubt about the collegian's potential.
"I mean, what's he going to do to match what they say he can do?," Simms asked. After discussing Luck's attributes, Simms did sound a note of caution about the Heisman candidate's abilities.
"I just don't see big time NFL throws. I don't care what anybody says. I've watched a lot of him. He never takes it and rips it in there. And you can say what you want but, man, you've got to be able to crease that ball every once in a while," Simms said. "There's not a lot of rotation on the ball and there's not a tremendous amount of power. Not that you need to have that power arm. I'm not saying you've got to have that exclusively but, man, it sure helps when you can do that because there's four or five plays a game it is about arm strength."
Even though he isn't totally sold on Luck, Simms has found himself talking an awful lot about him lately.
Just last week on Showtime's Inside the NFL, Simms said "there's no way" Peyton Manning lets the Indianapolis Colts draft Luck if he's fully healthy.
Whether Simms' concerns about Luck's arm strength are valid, it won't stop fans from continuing the "Suck for Luck" campaign. Although the Rams believe that Sam Bradford and the Colts are in wait-and-see mode with Manning, the remaining teams in the running for the No. 1 pick wouldn't likely hesitate for a second before enlisting Luck as a franchise savior.
Popular in the Community