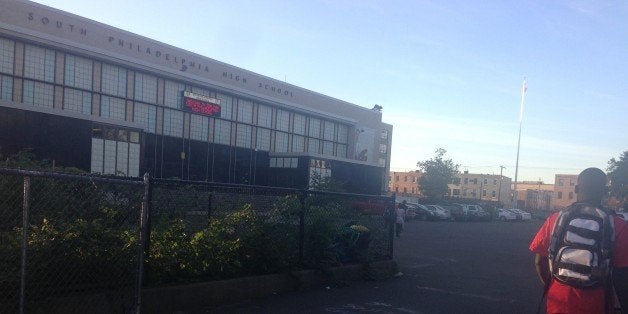 PHILADELPHIA -- All eyes were on the City of Brotherly Love Monday as students and teachers returned to its massively diminished public schools for the first day back from summer vacation.
Officials said the first day went smoothly, given the circumstances: Twenty-four schools were closed; the district has a junk credit rating; contracts have expired for many school employees; and the district is running a deficit of $304 million. Music and sports will only be available for the first semester. Gov. Tom Corbett (R) was still withholding $45 million in federal money as he sought $104 million in concessions, including a massive pay cut, from the Philadelphia Federation of Teachers union.
K.R. Luebbert, a teacher at Middle Years Alternative, saw the effects of the cuts up close. Luebbert tweeted that parents dropped their kids off an hour before school opened, and there was no staff present to receive them. Teacher Christina Puntel tweeted that her school had no counselors. "Seniors wanted to know about college applications," she wrote. "Fuggedaboutit." Another teacher reported that he had not yet received copy paper or workbooks.
At South Philadelphia High School, a huge building fondly known as Southern, a few thousand students were greeted Monday by a red-lettered marquee that said, "Welcome to the New South Philadelphia HS." They filed in through two metal detectors, one for boys and one for girls.
Bok Technical High School, a trade-oriented school nearby, was shut down as part of the district's consolidation. Most of the school's students were sent to Southern. So Principal Otis Hackney, a popular school leader who was a subject in a Pulitzer Prize-winning series on Philadelphia schools for his efforts to quell racially-motivated school violence, suddenly had double the students on his hands.
Southern, Hackney said, has the capacity for about 3,000 students. But the school lost some staff, and had to open rooms that hadn't been used in decades. As students walked in, a violinist and a cellist, the son and daughter of a teacher, set the mood with strains of classical music. Behind them, a poster: "Small Learning Community South Phila HS." It was likely left over from last year.
Hackney said the first day went pretty well, considering the massive increase in size. At lunch, Hackney broke up what appeared to be a minor squabble between two students, he said. He expects larger classes.
Parents were wary on Monday. Geraldine Brown, whose gym classes were held at Southern when she was in high school, came to drop off her 12th-grade son. "This is a mess," she said of the confusion as she watched students scrambling to pick up their class schedules. "I feel sorry for the school children."
Also standing in the middle of the controlled chaos was Gwen Johnson, whose grandson had attended Bok but was starting his sophomore year at Southern. Johnson graduated from Southern in the 1960s. "When my grandson was in Bok, there weren't that many students," she said. She worried that her grandson would miss out on Bok's career-oriented offerings. "They would help you get a job there," she said.
On the bright side, senior Brianna Farrell noted, long-broken bathroom doors were finally fixed. "Everything else is the same," she said.
As a consequence of cuts, Southern lost some teachers and picked up a few new ones from Bok. Rontae Kindle, 15, started his sophomore year on Monday. He noticed the difference. "Some of the teachers, I've never met them before," he said, taking a break from filling out a map of Africa during lunch. "They can't control the classroom. All the kids were yelling, running around. And he said nothing. It made me worried."
In North Philadelphia, Feltonville School for Arts and Sciences faced overcrowding, said Amy Roat, an English as a Second Language teacher. "You walk around, there are all these empty rooms and all these kids are crowded into the other rooms, because we lost six teachers," she said. "It feels so empty. We crowd all these kids in other rooms and we make do."
The school is missing many staff members, including an assistant principal, a part-time nurse, and counselors. "Everyone scrambled around to do what they needed to do, but I'm wondering how much can we scramble and still give kids a decent education?" Roat asked.
When Roat entered the building at 7:30, students were waiting outside in the fall chill because the school didn't have any staff to let them in, she said. There was nobody there to watch them. "The kids were a little bit stunned," she said.
This level of crisis in Philadelphia's schools is nothing new. Between 2010 and 2013, according to a city analysis, Pennsylvania's state funding for the district's schools dropped by $145 million. The district has faced a dramatic series of financial crises over the last decade, resulting in a school system defined by underfunding, political fights and standoffs each fall. This year was no different.
In June, the district sent layoff notices to 3,783 school employees -- about 20 percent of the total workforce. Of those, 676 were teachers.
In August, Superintendent William Hite said that the schools could not open as scheduled if the district didn't receive $50 million by the middle of the month. "We will not be able to open all 218 schools for a full-day program," he said at the time. Butting up against Hite's deadline, Mayor Michael Nutter (D) said in the middle of August that the city would borrow $50 million.
That promised cash infusion and some additional money still left the district with a major shortfall, but it did allow schools to bring back slightly less than half of the laid off employees. The School Reform Commission, the equivalent of a state- and city-appointed school board, voted to suspended some portions of school code, a move that enabled schools to call back non-teacher employees in whichever order they wanted -- going against a previously mandated process that was determined by seniority.
On Monday, Southern got two visitors whose presence was heralded by a crowd of local media video cameras: Hite and Nutter, who ate lunch with students in the cafeteria. "All seems to be well at the moment," Hite said. "We're keeping our fingers crossed." He said he's seeking a long-term, sustainable solution for the school system. "We can't keep coming back every year ... talking about what is needed just to be functional."
Nutter said that the funding situation was problematic, but added that "everyone has to do their part." (Some would argue that many already have, with blue-collar school workers taking huge concessions to avoid layoffs last year.) "We need a serious, state-wide student funding formula," Nutter said.
On Sunday evening, a group of about 150 parents, union members and students met outside Corbett's Philadelphia office to hold a candlelight vigil. Carrying coffin-shaped signs saying "RIP Philly's Schools," they mourned the death of the school district they once knew. They yelled into bullhorns, saying things like "What do we want? School funding. When do we want it? Now. If we don't get it, shut 'em down."
Support HuffPost
The Stakes Have Never Been Higher
Before You Go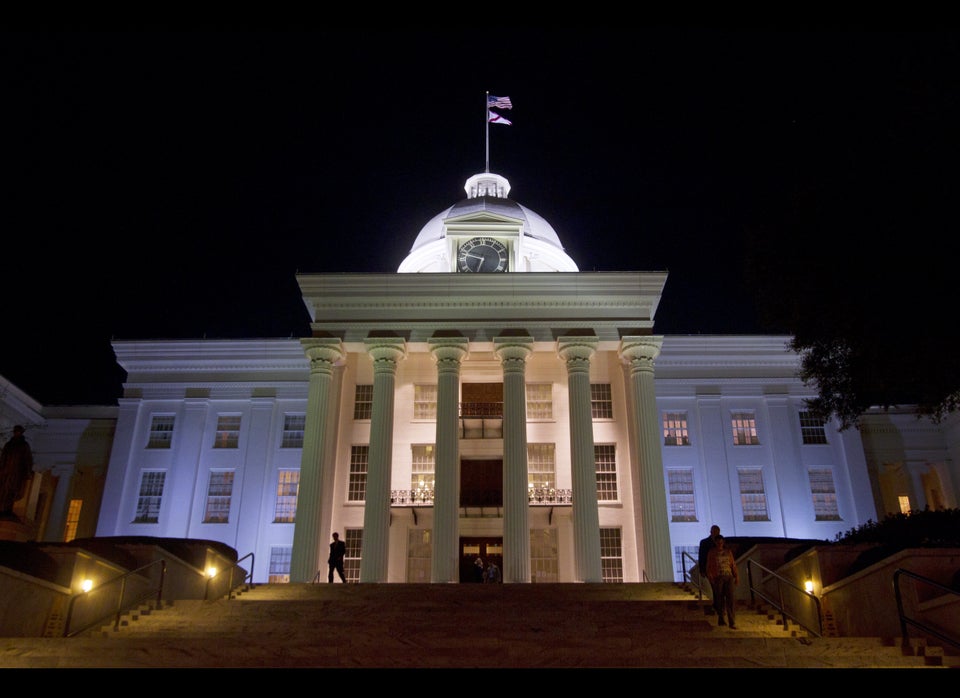 U.S. State Capitol Buildings
Popular in the Community