 PHILADELPHIA'S political, business and labor leaders gathered behind closed doors yesterday to prepare for a bid to host the 2016 Democratic National Convention, one week after Congress made that a more expensive proposition.
Former Gov. Ed Rendell will serve as chairman of a new nonprofit hoping to raise $50 million to make the bid and host the event at the Wells Fargo Center.
The U.S. Senate last week approved legislation to strip the Democratic and Republican parties of public financing for conventions. That amounted to $18 million for each party in 2012.
The U.S. House approved the legislation in December.
White House press secretary Jay Carney said last week that President Obama plans to sign that legislation.
One familiar face was missing in yesterday's power-packed room: Mayor Nutter -- who has seemed reluctant to embrace the idea of bidding, which was first pushed by U.S. Rep. Bob Brady, the city's Democratic Party chairman.
Rendell said Nutter is on board with the convention bid.
The city last month officially expressed interest in bidding to the Democratic National Committee.
Columbus, Ohio, is considered a front-runner for the convention because of that state's importance in presidential politics.
Brady was not impressed. "I don't know what the hell is in Columbus," Brady said. "I hope they are the competition. We'll blow them away."
Those attending the meeting were told Atlanta, Cleveland, Orlando, San Antonio, Brooklyn, Pittsburgh and St. Louis are also "potential competition."
Rendell called the economic impact and exposure of a convention "priceless." He said the city would have no problem hosting a convention one year after the 2015 World Gathering of Families, which is expected to draw Pope Francis and up to 2 million people to Philadelphia.
"There is sometimes a defeatist attitude in this city," said Rendell, who had just finished two terms as mayor when the city hosted the Republican National Convention in 2000. "We have to get out of that attitude that it's too big for us. We are a major-league city."
A nonprofit raised $66 million for the 2000 convention, with $39 million coming from taxpayers in the Philadelphia region.
Brady and Rendell said the city will not have to put up any money for the 2016 bid, and any expenses incurred for city services would be covered by federal funding for security and the economic impact of the money spent by those attending the convention.
Pennsylvania's importance in presidential politics should play as much a role in the Democratic National Committee's decision, expected to be made in the fall, as Ohio's, Brady noted.
The city's media market covers much of New Jersey, where Gov. Chris Christie is considered a potential 2016 Republican nominee. And former Secretary of State Hillary Clinton, a potential Democratic nominee, has strong family ties to the Scranton area.
John Dougherty, leader of Local 98 of the International Brotherhood of Electrical Workers, said Clinton could energize the city.
"Young kids today say, 'It's banging,' " Dougherty said. "If she's the candidate, Philly will be a banging convention."
Rendell stammered for just a moment at that before asking the media: "Put the correct interpretation on that."
On Twitter: @ChrisBrennanDN
Blog: ph.ly/PhillyClout.com ___
(c)2014 the Philadelphia Daily News
Distributed by MCT Information Services
Before You Go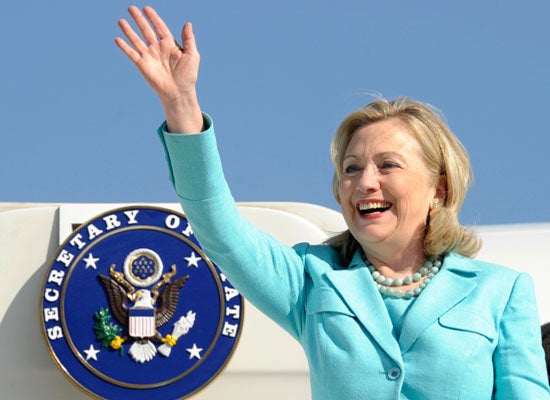 The Daring Dozen: Women to Watch for 2016
Popular in the Community