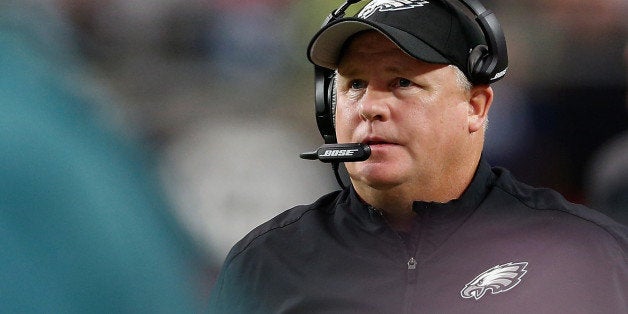 How can the Philadelphia Eagles be so ignorant?
More specifically, how can team owner Jeffrey Lurie, General Manager Howie Roseman, and Head Coach Chip Kelly ... all incredibly smart, successful individuals... be so blinded by their own egos that they seem destined to strangle a golden goose before it lays anything?
The entire thing is being labeled a swinging-of-the-power-pendulum towards Roseman and away from Kelly. It's thrilling if you're into football front office politics, but head-scratching if you care about actually winning football games. No football franchise wins Super Bowls with a front office that thinks its opponents are in house.
The question Iggles fans should be asking shouldn't be who won the power struggle? It should be why does a power struggle exist at all?
It boggles the layman's mind that such successful people can't find a way to coexist. Making this study in stupidity even more frustrating is that football fans just watched this same act play out with disparaging results in San Francisco.
The 49ers essentially wasted the last year of football, slogging awkwardly towards an inevitable splitting of egos that left everyone worse off. Despite going 44-19-1 with General Manager Trent Baalke and Head Coach Jim Harbaugh, the pair could't co-exist, and they blew the whole thing up. This very public divorce has been a huge loss for all parties involved, with no bigger loser than the fans (feel free to count the Niners players as the second biggest losers, as they had to waste a year of their short professional careers following broken leadership).
The 2014 49ers should have stood as a cautionary tale for all sports franchises; if you have a machine that's working, don't let anything start pulling the pieces away. Especially ego.
The Eagles brass is apparently incapable of learning this elementary lesson. The fact that the lesson is so readily on display in such recent history is what makes the Eagles front office dysfunction all the more baffling.
In the end, it's on Lurie. It's his shop, and it is up to him to MAKE THIS WORK. The combo of Roseman and Kelly is 20-12 since its pairing, not quite as good as Harbuagh-Baalke, but pretty close. The Eagles are on the path towards success... big success. The kind of success that ends in parades.
The only thing that can stop them is themselves. Ego was the opponent that took down the 49ers. The fact that the Eagles so quickly appear to be repeating that embarrassing history is ignorance at its finest.
Related
Popular in the Community