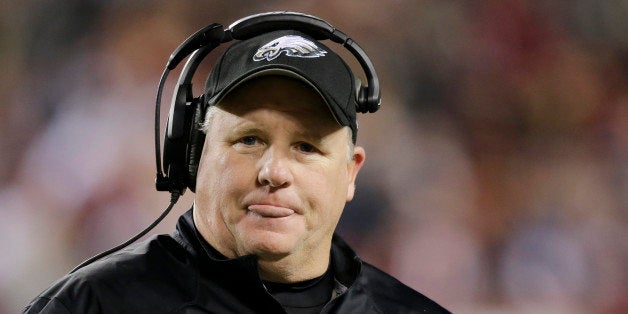 The conclusion to be made after the flurry of moves Chip Kelly and the Philadelphia Eagles have made this week is that they're all, for the most part, unnecessarily stupid.
The adjective "unnecessarily" is the key preface to the "stupid" because a team that wins 10 games in back-to-back years and barely misses the playoffs isn't a team in need of a complete overhaul. A team that wins 10 games in back-to-back years and was one Mark Sanchez mediocre performance short of a second straight NFC East title is a team in need of simple tinkering.
Well, Kelly does things his own way, and the early results are in; a roster that was in need of a little tune-up has now instead been entirely re-invented. The Eagles have jettisoned their quarterback, their running back, their wide receiver, their right guard, their outside linebacker, their safety and both of their cornerbacks.
Such turnover in and of itself would be shocking. Eagles owner Jeffrey Lurie was quoted at the end of the season saying his team was good, they just needed a bit more to become great. Most thought they'd add to the secondary a bit, draft for depth and call it an offseason.
Instead, the Birds are set to have at least nine new starters in the lineup come Week 1. What's even more shocking (or "frightening" for those in the Philadelphia area) is that nearly every acquisition Kelly has made has been for an injured player.
Kiko Alonso. Walter Thurmond. Ryan Mathews. And don't forget the franchise-du-jour Sam Bradford. Even Byron Maxwell missed a few games last season. If you're going to roll the dice by altering nearly half your starting lineup, why do it with players that all appear to be obvious injury risks?
(Writers Note: As of this post being submitted, DeMarco Murray had gone unsigned, though he's a trendy pick for an injury-plagued 2015 due to negligent overuse in 2014. So he'd fit right into Kelly's plan, and I expect the Iggles to nab him.)
That being said, for all the haterade being chugged in the Philadelphia area, a more cautious analysis of the moves reveals some traces of logic. Trading a 27-year-old running back (LeSean McCoy) for a 24-year-old linebacker (Alonso) is something Nate Silver probably dreams about. Signing two cornerbacks from Seattle's infamous Legion of Boom seems sound. Even trading Foles and some picks for Bradford, a former first overall selection, will have people referencing (as Kelly did on Wednesday) the delayed blossoming of New Orleans heartthrob Drew Brees.
However, logical nonsense doesn't change the fact that Kelly and the Eagles just placed their bets on a quarterback with a double-repaired ACL and the statistical equivalency of Chad Henne. Sorry Spock, but the logic behind the moves provide as much inspiration as a baked potato.
In the truest sense of irony, Bradford said on Wednesday that "the key to any successful organization is stability." He was referencing the situation he was leaving in St. Louis, but the sudden similarities to the current situation in Philly sticks out like a surplus of Oregon Ducks.
Yes, the moves Kelly's Eagles have made this past week could result in an improved football team next season. However even if that is the case, it will never change the fact that Philly should have been able to improve this roster for 2015 easily without dumping the faces of the franchise.
Calling all HuffPost superfans!
Sign up for membership to become a founding member and help shape HuffPost's next chapter